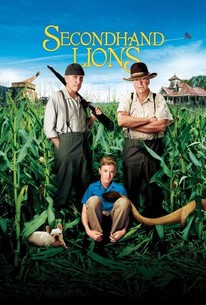 Secondhand Lions
2003, Comedy/Drama, 1h 49m
137 Reviews
50,000+ Ratings
Where to watch
Rent/buy
Rent/buy
Rent/buy
Rate And Review
Movie Info
A shy adolescent boy, Walter (Haley Joel Osment), is taken by his greedy mother (Kyra Sedgwick) to spend the summer with his two hard-boiled great-uncles, Hub (Robert Duvall) and Garth (Michael Caine), who are rumored to possess a great fortune. At first, the two old men, both set in their ways, find Walter's presence a nuisance, but they eventually warm up to the boy and regale him with tall tales from their past. In return, Walter helps reawaken their youthful spirit.
News & Interviews for Secondhand Lions
Audience Reviews for Secondhand Lions
The starting looked like it was going to be hella boring but surprisingly, it wasn't. It was one of those movies that gets interesting in every minute. Really good movie. Recommend everyone to watch.

A richly developed tale that plays on multiple levels with flights of whimsy, but never wonders too far from the heart. Haley Joe Osment is left by his single mother Kira Sedgwick with her two bothers on a broken down farm filled with a pack of dogs. Michael Caine and Robert Duvall bring all of their considerable skill to fill out the characters his down to earth yet worldly rich uncles. Osment observant and old beyond his years is initially annoyed by being left behind by his mother bonds with his uncles when he discovers a picture of Emanual Vauglier and shows it to Caine. Caine explains that his was Hubs love and goes on to explain a story that Hub was a cross between a Young Indiana Jones and Arabian nights. The elderly eccentric uncle find amusement where they can, one of the central distractions is when Caine purchases a Lion so the men can hunt it on there property. Like most of there plans it's not well thought trough. The Lion they purchase is old and decrepit. Osment nurses the lion back to health. This is a really excellent feel good movie that makes even a big lug like me cry. I wish we could all pass on Hub's wisdom and die like a real Africa lion.

Although it might strike some viewers as bland, it is actually a beautiful, clever movie with a strong story line.

Better than expected. Haley Joel Osment is a little goofy at times, but some of the moments with Michael Caine and Robert Duvall are pretty funny.
See Details