Shadowzone
(1990)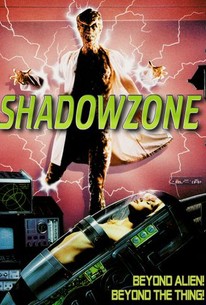 AUDIENCE SCORE
Critic Consensus: No consensus yet.
Movie Info
In this sci-fi film, researchers at an underground NASA research station are studying the effect of long periods of deep sleep on human beings. However, when the study participants begin dying, military man Captain Hickock (David Beecroft) is sent in to discover the cause. Once there, he discovers that the deep sleep results in a dimensional rift that has trapped a deadly, shape-shifting creature in the lab.
Rating:
R
Genre:
,
Directed By:
Written By:
In Theaters:
On DVD:
Runtime:
Studio:
Full Moon
Critic Reviews for Shadowzone
All Critics (2) | Fresh (0) | Rotten (2)
With the tagline "Beyond Alien! Beyond The Thing!" Cardone's science fiction horror hybrid is so beyond boring...


Audience Reviews for Shadowzone
Average Charles Band production, something I've said far too often after viewing a Full Moon flick. I don't mind cheesy sci-fi movies but this one didn't quite have the fun side that usual accompanies other b-movies of it's type. The monster is kept concealed from view for far too long, majority of the kills are off-screen and the gore is minimal apart from two moments. The story did have a bit of intrigue early-on, despite the scientific terminology making for a bit of confusment, and there was frequent glimpses of a nude woman sleeping away in a capsule who's the focus of the experiments taking place in the story. But really you're not missing out on much here.
½
Typical with Charles Band productions, Shadowzone falls into the same category of having a really interesting premises that just crumbles under typical horror and science fiction clichés. Even with those major flats, this is actually a surprisingly good early Full Moon production from a studio that has managed to only release crap in recent years. The film opens with a nice atmospheric night shot of a military investigator being flown into a remote Nevada testing lab that is deep below the Earth's surface. It seems that a group of scientists experimenting with dreams and deep sleep have had a test subject die so he is brought into investigate the mysterious death. When the scientists re-intact the experiment, they release a life form from another dimension that starts to stalk our cast in typical Alien fashion. For a Full Moon production, this film is actually taken very seriously. I'm use to their output mostly being tongue-in-cheek so it is refreshing to visit an older film in their library and getting a serious film instead. The production values, though still lower, are also a lot more lavish than their typical output. The lab itself is wonderfully lit giving it a dark, dingy atmosphere adding to the creep factor. What hurts the film however is some dreadful dialogue and our cast consisting of seasoned vets Louise Fletcher and James Hong can't even deliver it believably. The last act of the film also degrades to typical monster movie material as our creature kills our scientists one by one. One sequence even highly resembles the cat sequence in Alien only with a monkey substituted for the cat. Speaking of Alien, Richard Band's score also seems ot highly "steal" from Jerry Goldsmith score of that film. The film also not only borrows from Alien but also from The Thing as our creature has the ability to shape shift into different organisms. For a direct-to-video science fiction horror hybrid, Shadowzone isn't too bad. Just don't go into it expecting anything overly original and sci fi horror junkies might find the premises worth their attention.
Eric Reifschneider
Cutting-edge sleep research opens a rift to another dimension... and a creature from that dimension crosses over to our. And he's not happy, nor particularly sociable. Soon, the bodies are piling up. The art of the low-budget, B sci-fi movie hasn't changed much in the 20 years since "Shadowzone" was released. Thanks to advances in computer graphics, the way effects are done has changed, but the basic stories and how their told remain the same: Scientists explore Things Man Was Not Meant to Know and Monsters Start Rampaging. In fact, this is almost exactly the sort of film that embodies the phrase "A Sci-Fi Channel Original Picture" (or, now with more stupidity, "A SyFy Channel Original Picture"), only with better acting and better pacing than we've come to expect. "Shadowzone" was the second feature produced under Charles Band's famous Full Moon label. Despite it's obscurity, it's one of the better ones. For wanna-be filmmakers, it's worth a look because it's a good example of how to make an effective sci-fi/horror flick on a small budget, and for the rest of us it's a nice bit of fluff that'll keep us entertained for 80 minutes. There are aspects of the film that make little sense--the most blantant being that there is no way the in-use areas of a government facility would be allowed to be in the state of decay that the one featured in this movie is in, no matter how top secret it is--but the strong acting on the part of the cast and the well-written script will take all but the most critical viewers past that point and into the tale. "Shadowzone" is one of five pictures from Full Moon's earliest days that are included in the Full Moon Classics Vol. 1 boxed set. [url="http://www.amazon.com/gp/product/B000NNDCS6?ie=UTF8&tag=stevemillesdo-20&linkCode=as2&camp=1789&creative=390957&creativeASIN=B000NNDCS6"]Click here[/url] for more information about it, and stay tuned here because I'll eventually post my evaluation of it. Shadowzone Starring: David Beecroft, Louise Fletcher, Miguel Nunez, Frederick Flynn, Shawn Weatherly and James Hong Director: J.S. Cardone
Steve Miller
Shadowzone Quotes
There are no approved quotes yet for this movie.