Shanghai Triad (Yao a yao yao dao waipo qiao)
(1995)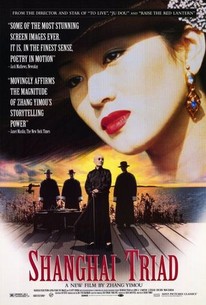 Shanghai Triad (Yao a yao yao dao waipo qiao) Photos
Movie Info
Country boy Shuisheng (Wang Xiaoxiao) is brought to 1930s Shanghai by his uncle who wants the boy to become a member of the powerful gang ruled by manipulative Tang (Li Baotian). In fact, Shuisheng will serve Tang's capricious mistress Bijou (Gong Li), a nightclub singer whom the boss proclaimed "the Queen of Shanghai." When the boy's uncle and the gang's several other members die during a rival gang's unsuccessful attempt on Tang's life, the latter retreats to a remote small island, taking both Bijou and Shuisheng with him and thinking of revenge. The film's English-language title is a little bit deceiving (the original Chinese title translates to "Row, Row, Row to Grandmother's Bridge," a line in Tang's favorite song performed by Bijou), as this drama centers more on the boy's coming of age and Bijou's disillusionment than on Shanghai gang wars.
Rating:
R (adult situations/language, violence)
Genre:
, ,
Directed By:
Written By:
In Theaters:
On DVD:
Runtime:
Studio:
Sony Pictures Home Entertainment
News & Interviews for Shanghai Triad (Yao a yao yao dao waipo qiao)
Critic Reviews for Shanghai Triad (Yao a yao yao dao waipo qiao)
Audience Reviews for Shanghai Triad (Yao a yao yao dao waipo qiao)
½
Good movie, ending is horrible (as in, it's a horrible story - not bad). I don't generally watch mob movies, and I tend to associate that genre as Italian (probably incorrectly - so sue me, it's not a type of movie I generally seek out), so this Chinese movie set in the past was something different to me. The settings are beautiful as is the lead actress. Different to see through the eyes of a poor young boy sent to work for them. Felt so sorry for him, especially on that horrible ending. Poor kid.
Nicki Marie
Super Reviewer
Zhang Yimou is a director who continues to surprise me, even though I have only seen four of his films so far. I had only seen his more well known martial arts films like Hero, House Of Flying Daggers, and Curse Of The Golden Flower, but yet again I have been surprised by him in the form of this gangster film set in the 1930's in Shanghai. The film follows the point of view of a 14-year-old boy named Shuisheng, who is brought in by his uncle to be the servant of a woman named Bijou, who is a showgirl and the girlfriend of a mobster who is only known as "Boss." Though only a servant, Shuisheng gets to see some of the inner workings of the gangsters he works for and the life of the woman whom he serves, who treats him like garbage and is having secret affairs. Things begin to fall apart in this dangerous world of the Shanghai mafia when a trusted associate attempts to murder the "Boss" and kills some of his associates in the process. Now the "Boss" along with his girlfriend, trusted associates, and Shuisheng must go into hiding on a tiny island where things get progressively more dangerous as Bijou herself causes things to unravel, while her servant watches on. Shanghai Triad is a very subdued and quiet gangster film, rather than a bombastic and violence-filled one like most others. It's one that's all about characters, story, and making the viewer pay attention to all the little details as they watch. But, when it strikes, it leaves a powerful impact on the viewer. The acting is also quite good, especially from actress, Gong Li, who plays the troubled Bijou. Her character was the most complex and fascinating, especially when she begins revealing parts of her life before getting caught up in the criminal world. She really steals the show, though her fellow actors are no slouches either, and deliver fantastic performances as well. It's film that's all about story, characters, and little details for the viewer to process, which is why it gripped and engaged me so much from beginning to end. Shanghai Triad is easily one of the best crime films I've ever seen and I highly recommend it to anyone who enjoys a film that is mostly story and character-driven.
Keenan Sullivan
Another great effort by Zhang Yimou. The greatest Asian mob movie that I have seen thus far. Very entertaining.
John Ballantine
Super Reviewer
Shanghai Triad (Yao a yao yao dao waipo qiao) Quotes
There are no approved quotes yet for this movie.