Shark Night 3D
(2011)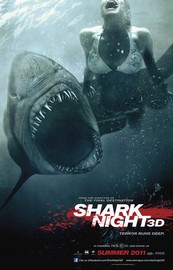 TOMATOMETER
AUDIENCE SCORE
Critic Consensus: A joyless excursion into the water that doesn't even produce good gore or nudity thanks to the neutered PG-13 rating.
Shark Night 3D Trailers & Photos
Movie Info
Arriving by boat at her family's Louisiana lake island cabin, Sara (Sara Paxton) and her friends quickly strip down to their swimsuits for a weekend of fun in the sun. But when star football player Malik (Sinqua Walls) stumbles from the salt-water lake with his arm torn off, the party mood quickly evaporates. Assuming the injury was caused by a freak wake-boarding accident, the group realizes they have to get Malik to a hospital on the other side of the lake, and fast. But as they set out in a tiny speedboat, the college friends discover the lake has been stocked with hundreds of massive, flesh-eating sharks! As they face one grisly death after another, Sara and the others struggle desperately to fend off the sharks, get help and stay alive long enough to reach the safety of dry land. -- (C) Relativity Media
more
Cast
News & Interviews for Shark Night 3D
Critic Reviews for Shark Night 3D
Audience Reviews for Shark Night 3D
Hmm. Sometimes you know a movie is going to be bad before you even watch it. This is especially true in the Horror genre. Even though the movie is crap, sometimes a few brutal kills and some good laughs will at least, make things entertaining. Then there's dog shit like "Shark Night". There is no redeemable quality to "Shark Night" at all. While watching the atrocity, I was constantly reminded that I was wasting my time. The movie was castrated from the get go. The asinine PG-13 rating extracted all of the adult content necessary to make a movie like this successful. The story is, of course. ludicrous and the effects are embarrassing. 3-D movies from the 80's would point and laugh relentlessly at what is offered here. Which is really insulting, considering they smear '3D' in the title. You might want to avoid "Shark Night".
Blake: What are all these sharks doing here? 

"Terror runs deep."

Shark Night wants to be a movie like Piranha. It wants to be a fun, exciting, and humorous blood feast, but it makes a huge mistake in going PG-13. Movies like this have to be rated R. Piranha was a success because it had tons of gore and tons of boobs. That's what the genre is made of. This went light on everything. The gore was lackluster and the boobs weren't there at all. So now in order to be a decent movie it has to actually be inventive and original in a way that this genre just can't be anymore; and it wasn't. The movie was stupid in ways you'd expect and in other ways that are surprising. It isn't humorous, you'll laugh at it, not with it. All in all, it is one of the worst movies you'll see in the killer fish genre. 

Obviously movies like this aren't trying to be the next Jaws because it just isn't possible. They need to be fun in different ways in order to succeed and Shark Night just wasn't able to do that. It was lifeless and at times just plain boring. The kills were terrible and the sharks looked just as bad. The filmmakers also went to great lengths to have stuff jump at you because everything has to be in 3D. There was a lot of fast motion scenes. We can see what they were going for; a fast paced, blood soaked extravaganza. Too bad what we were given was 80 minutes of boredom and cliches. 

Killer fish movies need to look at Piranha and see what it did. The makers of that knew they weren't making a great movie, but they also knew how to make it appeal to fans of the genre. Here they lost sight of that and sinfully thought they were doing something cool. Were they ever wrong.
Melvin White
Super Reviewer
Shark Night 3D Quotes
Sara: You wanna drive the boat?
Gordon: Let's rock it out!
Discussion Forum
Discuss Shark Night 3D on our Movie forum!
News & Features