Shark Swarm
(2008)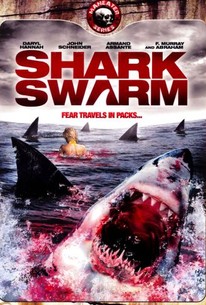 AUDIENCE SCORE
Critic Consensus: No consensus yet.
Movie Info
Tourist season sets the stage for terror when a greedy developer attempts to transform a quiet California fishing town into a gaudy tourist trap, and a swarm of man-eating Great Whites begin devouring anyone who dares venture into the once-peaceful waters. Decades of dumping has turned the Pacific Ocean into a toxic cesspool, and while some species died out others somehow managed to survive and adapt. Full Moon Bay is a sleepy seaside town populated primarily by fisherman, though slimy industrial millionaire Hamilton Lux (Armand Assante) is planning to rape the land a reap a profit. Should Lux have his way, overpriced shops will flank historic landmarks and a luxury resort will draw tourists from around the world. Of course this will put a stranglehold on the local business, such as the nearby fishery fun by Daniel (John Schneider) and Brook Wilder (Daryl Hannah). Wilder isn't about to go down without a fight though, and though he's never seen eye to eye with his estranged brother Phillip (Roark Critchlow) - a noted professor and environmental expert - the siblings are about to reunite to fight for a common cause. Just as Phillip returns to town, word emerges that a number of locals have been torn to shreds and eaten alive after venturing into in bay. When Marine biologist Amy Zuckermann (Heather McComb) arrives to survey Lex's developments, she makes a most disturbing discovery - a beached bull shark with sensory organs that still display predatory instincts even after death. As if this news wasn't horrifying enough, Amy discovers that a swarm of Great White sharks are stalking the waters and killing for pleasure. Each day the number of sharks grows, and each day they become more violent. With the sun shining bright and the tourists turning up in droves, Amy, Daniel, and Brook must figure out a way to stop these killing machines before the feast begins.
Rating:
NR
Genre:
,
Directed By:
Written By:
On DVD:
Runtime:
Studio:
Genius Products
Audience Reviews for Shark Swarm
½
This movie is way too long. It's very slow which doesn't help. The characters are awful and the sharks just randomly kills people while human drama plays out. There are some tense scenes but the ending is slow and there could of been a lot of things changed to make this movie shorter. Boring and a time waster.
Wes Shad
InTheBasketProgram I think this Movie has been misinterepted. The Message of the Movie so far I noticed was focused on the pollution in the ocean. I enjoyed to watch it. More Later
Two and a half hours are you f'ing kidding me!
Ken Stachnik
Super Reviewer
Shark Swarm Quotes
There are no approved quotes yet for this movie.
Discussion Forum
Discuss Shark Swarm on our Movie forum!