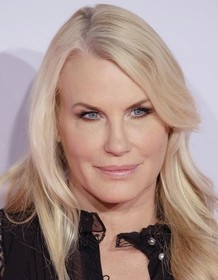 Daryl Hannah
Highest Rated: 94% Blade Runner: The Final Cut (1982)
Lowest Rated: Not Available
Birthday: Dec 3, 1960
Birthplace: Chicago, Illinois, USA
The step-niece of distinguished cinematographer Haskell Wexler, this attractive blonde came to the fore with her enjoyable performance as a mermaid in Ron Howard's comedy hit, "Splash" (1984). Hannah's striking features have been the cornerstone of her career--she was perfectly cast in a supporting role as a beautiful android in Ridley Scott's "Blade Runner" (1982)--though she has latterly proved herself capable of less glamorous roles, as in "Steel Magnolias" (1989) and "At Play in the Fields of the Lord" (1991). "The Clan of the Cave Bear" (1986), however, was one such experiment which failed all around. Many of Hannah's more recent films, though, while trying to capitalize on her penchant for whimsy, have offered her little but standard leading lady duties ("Crazy People" 1990, "Memoirs of an Invisible Man" 1992). Hannah branched out in 1994 when she directed, produced, and wrote a 12-minute short, entitled "The Last Supper," which won the Jury Award from the Berlin International Film Festival for Best Short. She also continued with her acting career, starring in the drama "The Ties That Bind" with Keith Carradine in 1995 and the comedy "Too Much" with Melanie Griffith and Antonio Banderas in 1996. Throughout the entire first half of the 1990's, Hannah was mostly in the spotlight for being John F. Kennedy's longtime girlfriend (they dated from 1989 to 1994). She emerged from his shadow as a classic sort of actress but was still largely associated with her her "Splash" role. Hannah took a variety of low-profile roles for the rest of the decade and appeared on stage in 2000 in the London production of "The Seven Year Itch." She received mixed reviews but continued to work steadily in film for the next several years. Hannah remained an enigmatic actress, at times showing comic genius and serious dramatic ability while still managing to get stuck in dead-end roles, such as playing Mandy Moore's mother in the teen weeper film "A Walk to Remember" (2002). As she aged, Hannah displayed an increasing comfort zone with her still-perfect body, baring much of it as a troubled exotic dancer Angel in "Dancing at the Blue Iguana" (2002), a film with gritty and serious overtones that still never quite shines beyond its high nudity factor (the actress reportedly also performed live in various Los Angeles-area strip clubs in preparation for the role). Nevertheless, she delivered a strong turn in the Polish brother's entrancing "Northfork" (2003) as the regal, empathetic hermaphrodite Flower Hercules, one of four apparent angels who visit the dreams of the son of a religious zealot who stayes behind in a '50s era Montana town about to be obliterated by a new dam; she was also compelling in writer-director John Sayles' "Casa de Los Babys" (2003) as the athletic, ever-running masseuse Skipper, one of several American woman living temporarily in Mexico while waiting to adopt babies, who is haunted by her three miscarriages. Following a highly touted nude spread in Playboy magazine at age 43, Hannah appeared in her most high profile role in ages, playing the iconic one-eyed assassin Elle Driver, one of the many killers The Bride (Uma Thurman) hopes to deliver vengeance upon in writer-director Quentin Tarantino's exploitation film tribute "Kill Bill, Vol. 1" (2003) and "Kill Bill, Vol. 2" (2004). After appearing in John Sayles' political satire "Silver City" (2004), Hannah starred in a little-seen Latin American drama called "Whore" (2004) and co-starred in Scott Marshall's dysfunctional-family comedy "Keeping Up with the Steins" (2006), indie drama "Hearts of War" (2007) and action thriller "Vice" (2008). Hannah's political activism led to a key role in the documentary "The Garden" (2008), and as her film roles decreased to co-starring roles in little-seen films often released direct to video, she became better known for her work as an ecological activist. In 2014, Hannah became a tabloid staple after she began dating rock legend Neil Young during the breakup of his marriage to his longtime wife Pegi Young. Hannah and Young reportedly married in the summer of 2018, although the camera-shy couple kept the details of the supposed union quiet.
Photos
SPLASH, Tom Hanks, Daryl Hannah, 1984 (c) Touchstone Pictures.
SUMMER LOVERS, Daryl Hannah, Valerie Quennessen, Peter Gallagher, 1982. (c) Orion Pictures.
JACKPOT, (top l-r): Jon Gries (second from left), Garrett Morris, Daryl Hannah, (bottom l-r): Anthony Edwards (second from l.), Crystal Bernard, Adam Baldwin, 2001, ©Sony Pictures Classics
THE POPE OF GREENWICH VILLAGE, Eric roberts, Mickey Rourke, Daryl Hannah, 1984, (c) MGM
KILL BILL: VOLUME 2, Daryl Hannah, 2004, (c) Miramax
ROXANNE, Daryl Hannah, 1987, (c) Columbia
THE TIE THAT BINDS, Julia Devin, Daryl Hannah, 1995, (c)Buena Vista Pictures
STEEL MAGNOLIAS, top, from left: Dolly Parton, Sally Field, Daryl Hannah, bottom, from left: Shirley MacLaine, Olympia Dukakis, Julia Roberts, 1989. ©TriStar Pictures
TWO MUCH, Antonio Banderas, Melanie Griffith, Antonio Banderas, Daryl Hannah, 1995. ©Buena Vista Pictures
BLADE RUNNER, Daryl Hannah, 1982, (c) Warner Bros.
DANCING AT THE BLUE IGUANA, Daryl Hannah, 2000
SPLASH, Tom Hanks, Daryl Hannah, 1984
SPLASH, Daryl Hannah, 1984. (c) Buena Vista Pictures.
BLADE RUNNER, Daryl Hannah, 1982, (c) Warner Bros.
RECKLESS, Daryl Hannah, Aidan Quinn, 1984, (c) MGM
FINAL TERROR, Daryl Hannah, 1983
KILL BILL: VOLUME 2, Daryl Hannah, director Quentin Tarantino on-set, 2004, (c) Miramax
CLAN OF THE CAVE BEAR, Daryl Hannah, 1986. ©Warner Bros
RECKLESS, Aidan Quinn, Daryl Hannah, 1984, (c)MGM
LEGAL EAGLES, Daryl Hannah, 1986. ©Universal Pictures