Roxanne
(1987)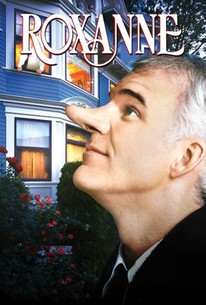 TOMATOMETER
AUDIENCE SCORE
Critic Consensus: Though its sweetness borders on sappiness, Roxanne is an unabashedly romantic comedy that remains one of Steve Martin's funniest.
Movie Info
This modernization of Edmond Rostand's Cyrano de Bergerac casts Steve Martin as C. D. Bales, the fearless, quick-witted fire chief of a Washington State resort town. Bales' most trusted fireman is the handsome but tongue-tied Chris McDonell (Rick Rossovich). Both men are in love with the beautiful Roxanne Kowalski (Darryl Hannah), but Bales, adorned with a huge nose that makes Bob Hope look like Nanette Fabray, is convinced that he's too homely to win Roxanne's heart. Thus, in the self-sacrificing tradition of Cyrano de Bergerac, Bales courts Roxanne vicariously by feeding his rival Chris the proper romantic words and phrases. The inherent pathos in Roxanne is offset by moments of slapstick, notably the scene wherein C. D. Bales vanquishes a pair of hooligans with a tennis racket. Steve Martin himself is credited with the screenplay for Roxanne, though he generously cites Edmond Rostand as his inspiration.
Critic Reviews for Roxanne
Audience Reviews for Roxanne
½
This modern version of the classic Cyrano de Bergerac tale about the man with the long nose and great wits found the perfect leading man in Steve Martin. He fills his protagonist with enough charm, charisma and arrogance to make the movie work even through a few rather sappy parts. The best moments are those of the small ideas, like lovably chaotic fire department or the fact that Chris climbs houses like an athlete. Even though Hannah does not exactly make for a convincing object of desire with her desperate need for romance, the film easily maneuvers through the weak parts thanks to its leading man and plenty of good and lovable jokes. Another big asset is the setting, an adorable mountain town that works wonders for the movie's atmosphere. They just don't make such comedies anymore.
½
Somehow I'd never gotten around to seeing this movie until now, but I guess I wasn't missing much. Rossovich is too over-the-top stupid to fit the tone of the rest of the film, the dialogue and directing are sloppy, the acting is pretty mediocre all around, and Daryl Hannah?? How she is cast as this gorgeous object of affection baffles me. Slim pickings in that town, I guess. The acrobatics, the sniffing out fires with his nose.... it's all just trying too hard.
Martin Bishop
Super Reviewer
The perfect foray into romance and intellectual thinking.
Spencer S.
Super Reviewer