Shotgun Stories
(2007)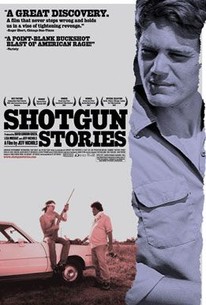 Movie Info
Two families linked by the same father explode into a violent rivalry in this independent Southern gothic drama, the first feature from director Jeff Nichols. Cleaman Hayes lived and died in Little Rock, AR, where he had seven sons by two different women. After wedding Nicole (Natalie Canerday), Cleaman sired three sons, and his lack of concern for their future was reflected in the fact he barely gave them names -- they were dubbed Son (Michael Shannon), Kid (Barlow Jacobs) and Boy (Douglas Ligon). One day, Cleaman abandoned his wife and sons, and left them to survive in deep poverty that has trapped them to this day. Eventually Cleaman cleaned up his act, launched a successful business, married again, and raised four more sons -- Cleaman Jr. (Michael Abbott, Jr.), Mark (Travis Smith), Stephen (Lynsee Provence) and John (David Rhodes), all of whom were given the love and attention Cleaman denied his first three children. When Cleaman dies, all seven sons attend the funeral, and Son, overcome by bitterness, spits on his father's coffin and tells everyone how much he hated the man. Short tempered Mark answers Son with his fists, and a free-for-all breaks out between the two Hayes families. The anger and rivalry doesn't end at the end of the day, and soon a war has broken out between the clans, with no small amount of blood shed on either side. Shotgun Stories received its North American premiere at the 2007 Tribeca Film Festival. ~ Mark Deming, Rovi
News & Interviews for Shotgun Stories
Critic Reviews for Shotgun Stories
Audience Reviews for Shotgun Stories
½
A slow, thoughtful, and brutally realistic look on a family torn apart by a father's infidelities, and after his death how violence erupts between the two families he started in his life. Michael Shannon, a method actor who is on the verge of typecasting himself as the "psycho" guy in movies, plays the part of a quiet man well. It is not a film for everyone because as said, it is paced almost to a crawl, but the character development and rising action are both well constructed by director Mike Nichols. If you like urban dramas that offer a different slice of life that are not seen in many movies, this is worth a view.
Dan Schultz
Super Reviewer
[img]http://images.rottentomatoes.com/images/user/icons/icon14.gif[/img]
Directors Cat
Super Reviewer
Son Hayes: We don't own the square-root of shit. Shotgun Stories was the directorial debut of Jeff Nichols and it also was his first collaboration with Michael Shannon. Before the two would go on to make a masterpiece with Take Shelter, they made this masterpiece, that I may like even more then Take  Shelter. I love the way in which Nichols makes movies. This guy has a pace that's all his own and he isn't afraid of moving slow and keeping his films strangely quiet. It helps even more that he saw how perfect Michael Shannon was for this story, and also Take Shelters. Shannon is the perfect actor to keep a quiet movie like this going for an hour and a half.  This film involves two sides of a family. One is brother, Son, Kid, and Boy, who's father left them, when they were young. The other is the fathers second family he made in the same Arkansas town. The two families hate each other. When the father dies, Son shows up at the funeral and insults his dead father, which sets off a chain reaction. As the feud escalates, inevitable questions about the worth of the fight come up. The story unfolds slowly, and never really speeds up the whole runtime. Nichols knows exactly how to take his time with his films and I love his style. The film looks beautiful and has some beautiful music as well. The cast, although mostly unknowns to me, is phenomenal and really drive home the down south, country element of the film nicely. Shotgun Stories is one of the best films I've seen in quite a while. I know it isn't a well known film, but seek this one out at all costs. It just shows the excellence that is Nichols and Shannon. Especially watch this if you've seen Take Shelter and enjoyed it. Shotgun Stories is extremely similar to that one in tone and how it is made. This is a masterpiece.
Melvin White
Super Reviewer
Shotgun Stories Quotes
There are no approved quotes yet for this movie.