South of Heaven, West of Hell
(2000)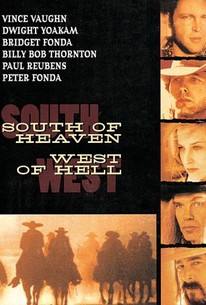 South of Heaven, West of Hell Videos
South of Heaven, West of Hell Photos
Movie Info
Country-music star Dwight Yoakam co-wrote, directed and stars in this impressive Western. Frontier Arizona marshal Valentine Casey, who was adopted as a baby, is forced to make a stand against a band of outlaws led by his foster father (Luke Askew) and two foster brothers (Vince Vaughn, Paul Reubens). Billy Bob Thornton, Bridget Fonda, Peter Fonda, Bud Cort, Michael Jeter.
Rating:
R (for strong violence, language and some sexuality)
Genre:
, , ,
Directed By:
In Theaters:
On DVD:
Runtime:
Studio:
Phaedra Cinema
Critic Reviews for South of Heaven, West of Hell
All Critics (7) | Fresh (1) | Rotten (6)
Sharon Stone once likened dating Yoakam to 'eating a dirt sandwich.' Viewing his directorial debut, it's apparent that she was being too kind--after all, just watching his film is like eating a sh*t sandwich.
It's best not to ask too many questions - better just to switch your brain to stand-by and enjoy the show.

The conflicts, vistas, rhythm and mood are of a piece, but not every personality or circumstance is fully thought through.
Film Journal International
Audience Reviews for South of Heaven, West of Hell
½
I guess sissy is a little excited that you're here. Valentine Casey is a lawman in the west somewhere near Tucson, Arizona. His family is a band of ruthless outlaws that do as they please. His family unveil some skeletons in Casey's past that he prefer be kept in the closet. There appears to be only one way for Casey to handle his family, but could he really gun down his own blood? "We're like brothers." "Not by blood." Dwight Yoakam delivers South of Heaven, West of Hell in his directorial debut (and only film on his resume). The storyline for this picture is just okay but contains unique and unpredictable characters. The settings, make-up/costumes, action, and dialogue were all disappointing. The cast was solid in name only as the cast includes Billy Bob Thornton, Vince Vaughn, Peter Fonda, Bo Hopkins, Bridget Fonda, and Michael Jeter. "You reckon Chinese food is hot? I reckon we'll be eating a lot of that in San Francisco." I DVR'd this picture when I was looking at Peter Fonda films and noticed this amazing cast (kind of a random group of actors). I had never heard of this film so I gave it a shot; unfortunately, this fell a bit flat. It tried to be unique and original but instead was clumsy and disappointing. Overall, I recommend skipping this picture. "You damn bunch of inbred bitches." Grade: D
Kevin Robbins
Great cast. What happened? The alleged plot is indiscernible, and a lot of talent goes to waste. Vince Vaughn was not good in this. It disturbed me a great deal to watch Pee-Wee Herman try to rape Bridget Fonda. I am happy to say he wasn't very good at it and she foiled him, right before bobbiting another guy who tried to hump her through Pee-Wee. If it sounds weird, it is because it was.
Mike Bierman
One of the most disjointed films I've ever seen. Even Billy Bob Thornton looks lost, doing his ol' buddy Dwight Yoakam a favor by appearing in this film. Interestingly enough, there are some terrific performances scattered throughout, but the lack of compelling (or even coherent) storytelling prevents this film from becoming anything more than resale-shop filler.
Neil Kull
South of Heaven, West of Hell Quotes
Discussion Forum
Discuss South of Heaven, West of Hell on our Movie forum!