The Tall Target
(1951)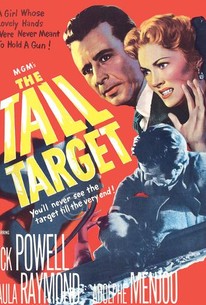 AUDIENCE SCORE
Critic Consensus: No consensus yet.
Movie Info
This historical thriller is set shortly after President Abraham Lincoln was elected and centers upon a bodyguard who learns of a plot to assassinate him. He tries to tell his superiors, but they scoff at the notion. This causes the bodyguard to quit and launch a personal investigation. He is on a Baltimore-bound train when he learns that one of the potential assassins is also a passenger. Now the bodyguard must somehow stop him and the other would-be killers.
Critic Reviews for The Tall Target
Audience Reviews for The Tall Target
good stuff descent period piece and I am interested to see how the new movie , the conspirator stack up against this one.
Gregory Wood
[font=Century Gothic]In "The Tall Target," Detective Sergeant John Kennedy(Dick Powell) is convinced there will be an attempt on the life of President-Elect Abraham Lincoln when he speaks in Baltimore on the way to the inauguration but nobody will believe him. So, he telegraphs Lincoln in Harrisburg in the hope of diverting and warning him. Once on the Night Flyer Express to Baltimore, he finds his valise but not his friend who has his ticket and later finds him murdered. On returning to his seat, Kennedy finds a man(Leif Erickson) who claims to be him, leaving the real John Kennedy to get Colonel Jeffers(Adolphe Menjou) to vouch for him.[/font] [font=Century Gothic]"The Tall Target" is an entertaining thrill ride of a movie full of twists with a superb performance by Ruby Dee. It is a speculation inspired by real events that nails the history and geography which helps in building suspense as the train gets closer to its date with destiny. Speaking of history, the characters are ordinary people swept up in extraordinary events, each with a separate point of view on Lincoln's election. For most of them, it is just talk but there are people who are vile enough to resort to violence. Kennedy is the only one with a personal connection to Lincoln, being inspired to risk everything on his behalf.[/font]
½
I saw this film in a rather weird way. I arrived late in the room and thus missed the first 10 minutes. As a result, a film that could have been medium at best became really good. Each character was background-less, their relationships were surrounded by mystery and their motives totally unknown. I got suddenly thrown in the action avoiding the usual romantic and annoying character-building scenes. So a film to see, but try to avoid the first ten minutes or so.
Ben Gui
The Tall Target Quotes
There are no approved quotes yet for this movie.
Discussion Forum
Discuss The Tall Target on our Movie forum!