The Art Star and the Sudanese Twins
(2008)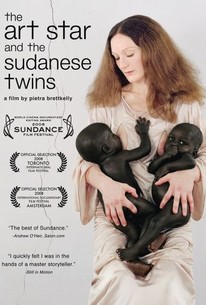 Movie Info
The "star" in the title of Pietra Brettkelly's The Art Star and the Sudanese Twins refers to controversial conceptual artist Vanessa Beecroft, who gained much publicity from staging tableaux of nude female models in aesthetically rough locations; the "twins" of the title are two babies from Sudan, whom Beecroft desperately wants to adopt. Cameras rolling, Brettkelly follows Beecroft over a difficult 16-month period that witnesses her fighting to convince both the family of the two babies, the orphanage that holds the children, and the Sudanese government, to open the doors for her to legally adopt these children. If Beecroft succeeds, it will make her the first individual in history to legally take children out of this impoverished and beleaguered country. Throughout the film, Brettkelly witnesses Beecroft at her most candid moments; in addition to offering glimpses of the adoption struggle, the film incorporates revealing glimpses of Beecroft's creative processes, conversations with her parents, who expostulate at length on her difficult childhood, and revealing talks with the artist herself. ~ Nathan Southern, Rovi
Critic Reviews for The Art Star and the Sudanese Twins
Audience Reviews for The Art Star and the Sudanese Twins
A story about a flaky world renowed artist who decides that she should adopt Sudanese twins without the consent of her husband and without a sane though in her head. Absolute crap. Should be listed as a comedy.
John Ballantine
Super Reviewer
The Art Star and the Sudanese Twins Quotes
There are no approved quotes yet for this movie.