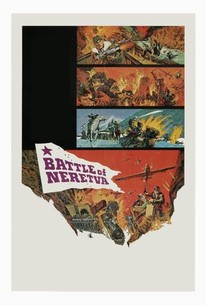 The Battle of Neretva
1969, War, 1h 42m
2 Reviews
250+ Ratings
Rate And Review
The Battle of Neretva Photos
Movie Info
During World War II, Yugoslavians fight for their freedom against local Chetniks as well as Italian and German troops.
Audience Reviews for The Battle of Neretva
This Yugoslav film was probably the most shown Yugoslav film of all times, but for the most Westerners is still unknown! Produced by Anthony B. Unger, Henry T. Weinstein and Steve Previn, written by Stevan Bulajić and Veljko Bulajić, who was the director, it was starring Sergei Bondarchuk, Yul Brynner, Anthony Dawson, Franco Nero, Milena Dravić and Orson Welles. A real Second World War epic with outstanding cinematography of Tomislav Pinter. It is based on the true events of World War II. The Battle of the Neretva was due to a strategic plan for a combined Axis powers attack in 1943 against the Yugoslav Partisans. The plan was also known as the Fourth Enemy Offensive and occurred in the area of the Neretva river in Bosnia and Herzegovina. [img]http://upload.wikimedia.org/wikipedia/en/thumb/b/b2/Battle_of_Neretva_poster.jpg/220px-Battle_of_Neretva_poster.jpg[/img] At the time, every Yugoslav (out of 20 something millions) had to see it, at least once, in his or her lifetime. I am not sure how many times I had an opportunity to watch it but it is definitely a two digit figure. And I enjoyed every time 175 minutes of it. Having a budget of $71,015,000 in 1969 allowed the bridge on the Neretva river to be built and twice-destroyed during the shooting of the film. This was the most expensive motion picture made in the SFR Yugoslavia! It was nominated for the Academy Award for Best Foreign Language Film, the year after Sergei Bondarchuk (playing the role of Martin in Neretva) won the honour for War and Peace. This was a legendary movie at the time on many levels... just imagine who could have one of the original posters for the English version of the movie to be made by Pablo Picasso, which, according to Bulajić, the famous painter agreed to do without payment, only requesting a case of the best Yugoslav wines. I suggest to watch it if you like war epics!
See Details