The Buccaneer
(1938)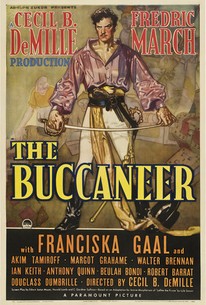 AUDIENCE SCORE
Critic Consensus: No consensus yet.
Movie Info
Cecil B. DeMille's The Buccaneer stars Fredric March, complete with curly hair, pencil moustache and florid "Sacre Bleu!" French accent, as 18th century pirate Jean Lafitte. Operating out of a "buccaneer's haven" of the coast of New Orleans, Lafitte plunders all passing ships for their wealth, but refuses to attack any vessel flying the American flag. During one seafaring skirmish, he rescues Dutch maiden Gretchen (Franziska Gaal) from a sunken ship. Gretchen falls madly in love with the dashing Lafitte, but he has eyes only for aristocratic Louisana belle Annette (Margot Grahame). During the War of 1812, Lafitte is offered a pardon by Andrew Jackson (Hugh Sothern) if he and his pirates will fight on the American side. As good as his word, Lafitte stands shoulder to shoulder with Jackson as they ward off the British at the Battle of New Orleans. During a Victory Ball in his honor, Lafitte is confronted with evidence that he unknowingly caused the death of Annette's younger sister Marie (Louise Campbell) during a previous act of piracy. The assembled guests are all for hanging Lafitte on the spot, but General Jackson offers the pirate an hour's head start out of New Orleans, provided he never set foot on American soil again. This naturally costs Lafitte the love of Annette; fortunately, Gretchen is awaiting him on board his ship with open arms. From the opening scene in which Dolly Madison (Spring Byington) rescues the Declaration of Independence during the burning of Washington to the closing clinch between Lafitte and Gretchen, The Buccaneer is one of DeMille's most exhilarating films. It was remade less successfully in 1958 under the direction of Cecil B's son-in-law Anthony Quinn, who played the supporting role of Beluche in the original film.
Critic Reviews for The Buccaneer
All Critics (1) | Fresh (1) | Rotten (0)
Cecil B. DeMille plays fast and loose with his history, as usual, but he also has more fun with the story than in many of his big historical spectacles...
Audience Reviews for The Buccaneer
Typically florid DeMille drama not as over the top as some is solid entertain ment. Some of the obvious projection shots take you out of the movie but overall well made.
The Buccaneer Quotes
There are no approved quotes yet for this movie.
Discussion Forum
Discuss The Buccaneer on our Movie forum!