The Monuments Men
(2014)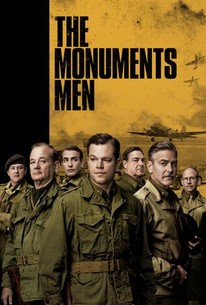 TOMATOMETER
AUDIENCE SCORE
Critic Consensus: Its intentions are noble and its cast is impressive, but neither can compensate for The Monuments Men's stiffly nostalgic tone and curiously slack narrative.
Movie Info
Based on the true story of the greatest treasure hunt in history, The Monuments Men is an action drama focusing on an unlikely World War II platoon, tasked by FDR with going into Germany to rescue artistic masterpieces from Nazi thieves and returning them to their rightful owners. It would be an impossible mission: with the art trapped behind enemy lines, and with the German army under orders to destroy everything as the Reich fell, how could these guys - seven museum directors, curators, and art historians, all more familiar with Michelangelo than the M-1 - possibly hope to succeed? But as the Monuments Men, as they were called, found themselves in a race against time to avoid the destruction of 1000 years of culture, they would risk their lives to protect and defend mankind's greatest achievements. From director George Clooney, the film stars George Clooney, Matt Damon, Bill Murray, John Goodman, Jean Dujardin, Bob Balaban, Hugh Bonneville, and Cate Blanchett. The screenplay is by George Clooney & Grant Heslov, based on the book by Robert M. Edsel with Bret Witter. Produced by Grant Heslov and George Clooney. (c) Sony
News & Interviews for The Monuments Men
Critic Reviews for The Monuments Men
Audience Reviews for The Monuments Men
The premise is fun, making you think of 70s WW2 caper movies. I don't know how they managed to combine such a fantastic cast and yet make every single character and actor feel underused. The decision to split up the team didn't help. The direction and look of the film are great and there are glimpses of what could have been. But the plot remains somewhat undecided, sometimes hinting at the terrors of war while being entirely unexciting at the same time. Entertaining but also a missed opportunity. Pity.
½
Not bad but not too great either. With the subject matter and that cast this should have been so much better.
½
When George Clooney made his directorial debut in 2002 with the off-beat Confessions of a Dangerous Mind and followed it up with the superb McCarthyism drama Good Night and Good Luck it seemed that he had just as much talent behind the camera as he did in front of it. However, the dull Leatherheads and largely disappointing The Ides of March came next which threw some doubt over his ability to call the shots. With The Monuments Men I'd, unfortunately, have to say that this has more in common with with his latter efforts. During World War II, Frank Stokes (George Clooney) learns of Hitler's intention to steal the world's greatest works of art for his own personal museum. Under the permission of President Roosevelt, Stokes assembles an unlikely platoon of art experts to enter into war-torn Europe and rescue thousands of years of cultural heritage before the Nazis and the Soviets get their hands on them. Credit to Clooney for trying to evoke old-fashioned Hollywood movies as, for the most part, he succeeds. There's a pleasant feel to the proceedings that brings reminders of John Sturges' The Great Escape or Robert Aldrich's The Dirty Dozen. Like those films, it has an abundance of quality actors onscreen and despite their roles seriously lacking in characterisation they bring a certain playfulness and much needed charisma. In fact, if the stars weren't as easily watchable as they are then the film itself would completely fall flat. Despite it's easy going nature, though, there are glaring shifts in tone. Just as your relaxing into the whole caper vibe, it throws in some serious dramatic moments and events that are jarring. I suppose I may be being overly critical when the film is all about a race against fascism but it just struck me that Clooney couldn't fully realise his intentions here. An admirable attempt to replicate an old-fashioned movie but it only really works on the surface. Once you dig a little deeper, it's all very two dimensional and superficial. That being said, if all you're looking for is some unabashed entertainment without having to think too much then this should go down without much fuss. Mark Walker
Mark Walker
Super Reviewer
The Monuments Men Quotes
| | |
| --- | --- |
| Walter Garfield: | The army may not care about art, but they sure as shit care about gold. |
| | |
| --- | --- |
| Claire Simone: | Will you stop speaking French? or what ever language you're speaking? |
| James Granger: | If it wasn't for us, you'd be speaking German. |
| Preston Savitz: | No. If it wasn't for you, I'd be dead. But I'd still be speaking French. |
| | |
| --- | --- |
| German Soldier at Ghent: | John Wayne... |
| Richard Campbell: | Yes, John Wayne... |
| | |
| --- | --- |
| Richard Campbell: | Right now, you wish that German had shot you. |
Discussion Forum
Discuss The Monuments Men on our Movie forum!