Tiger Eyes
(2013)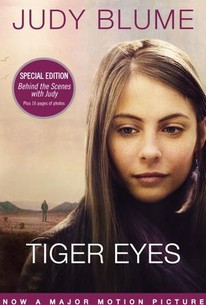 Movie Info
Tiger Eyes marks the first major motion picture adaptation from the work of iconic author Judy Blume, whose books have sold more than 82 million copies in 41 countries. Davey is a 17 year-old girl abruptly relocated by her grieving mother to the strange "atom bomb" town of Los Alamos, New Mexico. With the sudden and violent death of her father, the displaced Davey no longer knows who to be or how to fit in. Everything that once mattered suddenly seems insignificant. But when she meets Wolf, a mysterious young Native-American, while exploring the surrounding canyons, she feels he is able to see past her pain and into her true self. The connection they make brings Davey back from the edge and sets her on a journey from heartbreak and confusion to life and love after tragedy.
News & Interviews for Tiger Eyes
Critic Reviews for Tiger Eyes
Audience Reviews for Tiger Eyes
½
It always upsets me when a great film is released, only to be not promoted enough or have the budget to really place itself in many theatres. Sometimes, even when a film wins best picture at a film festival, even that isn't enough to bring it into the spotlight. Not to say that Tiger Eyes was Oscar worthy by any means, but I haven't heard a single person talking about this film in the way that I believe it should be remembered by. This is a very self-contained film that only has a few locations to it, but it's all about grieving characters, so that's really all you need. While this is far from a perfect movie, here is why Tiger Eyes deserves some recognition after being left in the dust over five years ago. Although I use word journey fairly loosely here, this film is all about the journey that young Davey Wexler goes on. After the death of her father, she joins her mother and younger brother on a trip to her aunts house, where they are to grieve a bit easier. Along the way, she meets a boy who opens up her outlook on life and many other characters pop in and out in order to make her fully discover that her life isn't quite as bad as she thought hers had become. There's much more to this movie than what the premise suggests and I loved taking this "journey" with these characters. Where the film fumbles some of these positives however, is in its dialogue. If there's one thing a film can do to make its audience chuckle, it's deliver bad dialogue. Not to say this film had horrible dialogue, but there are several instances where characters seem to be talking completely out of character or just seem to be overdoing it. Some viewers may not see this at all, but I was taken out of this movie on multiple occasions, and not to mention the family they are staying with, which are either just completely rude or the writers were thinking of a different tone for them on paper. It's strange, because I quite enjoyed most of these characters, I just didn't always buy into what they were saying. I may be starting to nitpick here, but the backstory to this film is truly what makes the current journey its following them on worth it. Each and every time the film flashes back to show the tragic backstory of its central family, the colourization and overly dramatic sequences that occur, felt like something out of a television film. It felt very cheap, even though the material itself still kept me engaged. Aside from some strange dialogue and overly exaggerated flashbacks, this is a very effective story as a whole. Within each of my complaints about this movie, I'm able to pull a positive out as well, while already liking the movie as a whole. To reiterate what I mentioned in the beginning of my review, I think Tiger Eyes is a film that slipped under the radar and remained there for the past five years. I'm just discovering it now, and yes there are issues with it, but the overall film is really quite powerful and touching. There are some very well-done moments that string their way through this film and have great payoffs in the end, making this a worthwhile 90 minute journey to take. Some people may not buy into everything that these characters decide to do, but the end result is still wonderful to experience. Tiger Eyes is a very small movie that may bore some people, but I thought it was directed with care by writer/director Lawrence Blume, and I left this movie feeling moved, regardless of the few hiccups sprinkled throughout. If you are a fan of the drama genre, I highly recommend checking this little film out. Tiger Eyes is a far from perfect pleasure to watch.
½
One of the few Judy Blume books I didn't read growing up. I found an ex rental for $4, so it was a nostalgic purchase. Actually it wasn't thrilling. I think I understand how I missed it. Though the movie looks nice and the cast are good, I wasn't all that disappointed when the disc froze halfway through and couldn't be played any further. Maybe it didn't translate well from the novel or maybe i am just too old now...
Nicki Marie
Super Reviewer
½
A realistic and emotional coming of age story about love and loss and family.
Dannielle Albert
Super Reviewer