To Save a Life
(2010)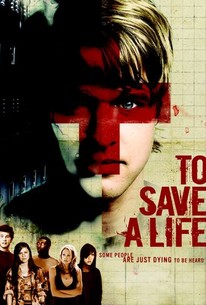 Movie Info
Jake Taylor has it all: friends, fame, a basketball scholarship and the hottest girl in school. What could be better? Enter Roger Dawson. Roger has nothing. No friends. No hope. Nothing but putdowns and getting pushed aside. Things couldn't get worse...could they? Jake and Roger were best friends when they were kids. But the politics of high school quickly pulled them apart. Now Roger doesn't fit in Jake's - or anyone's circle - and he's had enough. He walks onto campus with a gun in his pocket and pain in his heart and makes a tragic move. Jake's last-ditch effort can't stop Roger, and the sudden tragedy rocks Jake's world.
Critic Reviews for To Save a Life
Audience Reviews for To Save a Life
½
Great movie for anyone with a teenager.
Cynthia S.
Super Reviewer
Now I never heard of To Save A Life myself but from what my friends told me it has a "cult following" and many people like it. So I checked it out from the good reactions I heard and the fact "cult movies" usually means comedy from bad movies, unfortunately this is just a bad movie. To Save A Life is poorly constructed in terms of plot. It starts with our main man Jake Taylor at a friend funeral, at first I thought I just skipped past some scenes by mistake but nope it start with a funeral. The problem with this is we already know Jake Taylor friend is dead and we don't even have time beforehand to connect with him for his death to have an impact on us. Whenever we do get development from about this one character it usually feels force and serve to move the plot forward when it got nothing else to distract us with. To the movie credit though it does accurately portray how teenagers act and is very relatable to them on many levels. Although it's still poorly written, for some reason when Jake Taylor helps more people he looses popularity at school, writers these days. Also this church has a service called "Souled Out", oh gosh. Oh yeah, I forgot to mention this is a religious movie. At first I had doubts that this was a religious movie but the music did sound like it was Christian, but what convince is the fact Jake Taylor feels bad about his behavior. Apparently despite the fact Jake Taylor friend saved his life and was handicapped because of him, Jake Taylor chooses a popular girl over spending time with his friend. The only thing more poor than the plot is the force religious dialogue, like when Jake meets a pastor he says "I'm not religious". My personal favorite includes when Jake talks to his pastor about saying the word hell in church and the pastor actually says "That was the coolest thing I've ever seen". Aside from the poor dialogue, poorly constructed plot, the movie never forces it religious message on the viewer. What quite surprising is that despite being a religious film the characters don't immediately convert into to angels like real people. I would talk about the acting and cast, but they're really underwhelming when it comes to their acting. Although most of them fit their characters perfectly and feel like real people. Moving back to the plot, I almost forgot our main character had parents who lack any impact or any defining characteristics beside being an unhappy couple. To my surprise the movie actually stole my idea for asking a girl out. If you're wondering what it is, simply put a flower pot in breakable thick ice with a hammer next to it, wait for the girl to break it, and come out of the bushes (or in my case the pool) and say "Now that we've broken the ice, what to go on a date?". There is an audience for this movie and it does plenty of good lessons in it, but I'm just was not part of that audience. The movie is too loud with it preachy music, the dialogue doesn't feel natural, some of the important characters have no impact, and most importantly it fears going into the more serious issues and diving deeper into it characters. To Save A Life is not the movie for me and it simply didn't felt engaging simply because I didn't connect that much with the characters and poorly constructed plot. There's an audience (especially among teens) that will like it, but if you're wanting life lesson and a more engaging experience look elsewhere.
Caesar Mendez
Super Reviewer
½
"To Save a Life" has probably broken the record for most cliches in a movie. Aside from that, it offers terrible directing, editing, and acting. Like all Christian films, it is predictable, but not only that, it portrays high-schoolers in a very unrealistic way. It also has multiple mixed messages that are forced upon the audience, none leaving any lasting impact. As far as Christian films go, this is the best, but that doesn't mean it's any good.
Eric Shankle
Super Reviewer
To Save a Life Quotes
There are no approved quotes yet for this movie.