Tony Rome
(1967)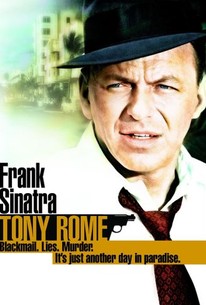 Movie Info
Frank Sinatra brings a sneering Rat Pack ethos to his first hard-boiled detective role in Tony Rome. Tony is an ex-cop who lives on a houseboat off Miami, accepting fees for private-eye work. His former partner, Ralph Turpin (Robert J. Wilke), asks Tony for help in locating Diana Pines (Sue Lyon), the daughter of rich construction magnate Rudolph Kosterman (Simon Oakland). Tony finds her unconscious and drunk in a sleazy motel room and returns her to her home. Rudolph decides to hire Tony in order to find out why his daughter is behaving so erratically. In the meantime, Diana's stepmother, Rita (Gena Rowlands), also offers Tony money to inform her first about whatever Tony finds out. He discovers that Diana has lost an expensive diamond pin, but before he can act upon the information, he is beaten up by two goons and nearly killed by Diana's crazy step-uncle. Tony then finds out that Turpin has been murdered. With help from sultry and sexy divorcée Ann Archer (Jill St. John), Tony discovers that Diana has been funneling large sums of money to her alcoholic mother, Lorna (Jeanne Cooper), with Rita's priceless jewelry being replaced by fakes. A collection of disagreeable human sludge all take their turns trying to get Tony and the information that he holds -- including his old pal Lieutenant Santini (Richard Conte). After a murder attempt on Rudolph's life, Tony uncovers a series of vile connections involving blackmail, deceit, and betrayal. ~ Paul Brenner, Rovi
Critic Reviews for Tony Rome
All Critics (5) | Top Critics (1) | Fresh (3) | Rotten (2) | DVD (1)
Tony Rome features the sort of winding plotline and tough-guy characterizations familiar to fans of '40s film noir, those down-and-dirty classics that usually found someone like Humphrey Bogart smacking around someone like Elisha Cook Jr.

The political resonance of Frank Sinatra's sleepwalking is unsubtly reactionary.
Audience Reviews for Tony Rome
Pedestrian, slow, episodic. Just blah. Forgettable. Not even The gorgeous Jill St John playing a cheeky, smirking wannabe floozy on the arm of Old Blue Eyes himself could save this. I only watched this one bc it has better ratings than Lady In Cement - a more initially dazzling gumshoe mystery flick. A touch more streamlined than this one, yet still sides into being episodic after the underwater intrigue is over. Tony Rome - 2 out of 5 Lady In Cement - 3 out of 5
Thomas Porter
½
***Due to the recent RT changes that have basically ruined my past reviews, I am mostly only giving a rating rather than a full review.***
Steve Smith
½
This movie was made in the late 1960's and has all the usual Private Eye Story clichés. Frank Sinatra plays a retired cop turned private eye named Tony Rome living in a boat in Miami Beach. It's the same concept that James Gardner used in his TV show The Rockford Files except the typical Rockford Files episode was better than this movie. The movie just follows Frank Sinatra/Tony Rome around the Miami area as he tries to find out who killed his partner. There are some great scenes of the Miami area. You can see what Miami looked like in the 1960's. The movie starts with his ex-partner offering to pay him $100 to take a drunken rich girl home from a cheap hotel. He asks for $200. Today that's not much money but it was in 1967. When he is accused of stealing the rich girl's diamond pin he goes to his ex-partner to see if he took it. Later his partner is found dead in Tony Rome's office. He has to find the killer to clear his name, just like in the Maltese Falcon. In the end the so called scandal that was driving the plot is so tame it wouldn't even be a scandal today. Jill St. John plays the love interest that holds the key to the mystery. The movie is full of one line jokes for Frank Sinatra but the problem is Frank Sinatra isn't funny.
Donald White
Tony Rome Quotes
There are no approved quotes yet for this movie.
Discussion Forum
Discuss Tony Rome on our Movie forum!