Urban Legend
(1998)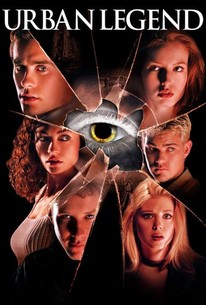 Movie Info
When a series of strange deaths occurs on campus, beautiful and assertive student Natalie suspects that they are murders based on urban legends. Her classmates, loyal Brenda, ambitious journalism major Paul, and school practical joker Damon, insist the deaths are just coincidences. When Natalie gets too close to discovering how the deaths are connected, she realizes she's the killer's next victim.
Critic Reviews for Urban Legend
Audience Reviews for Urban Legend
Another Scream rip-off, Urban Legends tends to navigate the same uninspired waters as many of the "teen" horror films of the late 1990's. Thankfully it's a forgettable film that doesn't do anything to raise the stakes in the Horror genre. This is a poorly made film with awful acting, a terrible plot, directing and cheap scares. The film is pointless and does nothing to thrill its audience. The film insults the viewer for which the movie was intended for by not challenging their thoughts hard enough. What was great about the old horror films was that, there was always a great amount of suspense, shocks and jolts. Something that's significantly absent from these types of films. The film fails because the material that's presented on screen is uninspired, often boring. This is a stupid film that's a wasted opportunity because it actually did have an interesting idea for a slasher film. However that failed. The result is a forgettable "horror" film that has definitely NOT stood the test the test of time, and since the release of this film, there's been far better horror films this film is one of the worst the Horror genre has ever produced. Avoid.
Scary at times but a little boring.
Bethany Murphy
Super Reviewer
½
The usual late 90's slasher taht fails to advance on Scream's post-modern brilliance. In fairness, the idea is quite a good one, with scary urban legends becoming reality. It could have been a nice way for the film to comment on fears inherent in all of us, as urban legends tend to focus on one simple theme. Unfortunately, the film goes for simple slashngs of college kids. There isn't a lot of tension and one can only imagine the screenwriters telling stories to each other as quickly as they could, rather than creating the dread. Fairly tame, and no where near as scary as the legends themselves.
Luke Baldock
Super Reviewer
Urban Legend Quotes
| | |
| --- | --- |
| Brenda: | (at the very end of the movie; in a student circle conversation) - Okay listen up guys...'cause this is how the story...really goes! |
| Brenda: | (at the very end of the movie; in a student circle conversation) Okay listen up guys, 'cause this is how the story really goes! |
| | |
| --- | --- |
| Damon: | I'll see you two in class tomorrow. |
| Brenda: | Unfortunately. |
| | |
| --- | --- |
| Brenda: | Sh*t! Bullet through the head. Not exactly an urban legend, but in the essence of time. |
| | |
| --- | --- |
| Brenda: | Oh, great...Rent-A-Cop to the rescue. |
| Brenda: | Oh, great. Rent-A-Cop to the rescue. |
Discussion Forum
Discuss Urban Legend on our Movie forum!