The War Bride (War Bride)
(2001)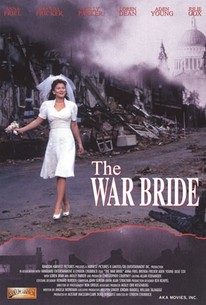 Movie Info
Shortly after English seamstress Lily (Anna Friel) marries and has a child with Canadian soldier Charlie (Aden Young), he ships out to World War II. Moving to his family's farm in Canada, Lily finds herself stuck in a lonely place and at odds with her husband's kin. Brenda Fricker co-stars as Charlie's hostile mother, and Molly Parker plays Sylvia, Lily's disabled sister-in-law.
Critic Reviews for The War Bride (War Bride)
All Critics (7) | Top Critics (1) | Fresh (4) | Rotten (3)
[An] unguarded tenderness makes The War Bride so heartbreakingly stirring even after multiple viewings...
If The War Bride sounds like Mills & Boon on the prairies, it's not far off that well-rutted track of sentimental romances in which moral foundation-garments give protection from any serious loosening of convention.
Audience Reviews for The War Bride (War Bride)
AKA: The War Bride: Very nice movie. A touching story about a war bride, and her attempt to fit into her new husband's not so welcoming family, and town. Well written, well acted, interesting, funny, and rather touching. Made for tv-ish.
Cynthia S.
Super Reviewer
½
A strong 3 1/2. Four for the story and 3 for the production. Ms. Friel (Lilly) gives a strong performance as a young woman torn from the life she knew in war-time London for the relative safety of western Canada. What she didn't bargain for was the cold reception she received from her in-laws and most of the townspeople. A full range of emotions was evoked in this viewer by the selfless way that Lilly finally found acceptance in her new home and helped to bring healing to her war-damaged husband when he returned. I'll give it the benefit of the doubt over the small problems I had with the overall acting and am willing to chalk the sparseness of the sets up to the bleak landscape. A few loose ends were never resolved, but the main story was a basic, feel-good, love conquers all, romantic tale. Molly Parker turned in a brave performance as the flawed sister and Brenda Fricker, as the mother, has to be related to Colm Meaney. They look enough alike to be siblings!
Mark Abell
Super Reviewer
The War Bride (War Bride) Quotes
There are no approved quotes yet for this movie.