Wer
(2013)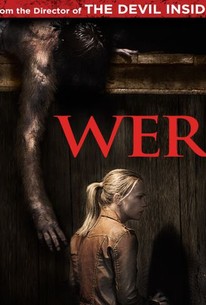 AUDIENCE SCORE
Critic Consensus: No consensus yet.
Movie Info
An attorney (A.K. Cook) oversees a series of medical tests conducted on an afflicted loner (Brian Scott O'Connor) suspected of slaughtering an entire family during a camping trip, and discovers that he's a lycanthrope when he escapes to embark on a terrifying urban rampage.
Critic Reviews for Wer
All Critics (1) | Fresh (1) | Rotten (0)
While Wer stumbles a bit out of the gate, a fiercely wild werewolf story eventually takes over that enters genre areas previously unexplored by horror filmmakers, resulting in an ambitious payoff that redefines how we see werewolves.
Audience Reviews for Wer
½
A cool addition to the Werewolf genre, albeit on with its own host of issues, chief among which is the atrocious camera quality.
A family vacationing in France is brutally murdered and the main suspect is a miserable loner, hardly able to move around at all. What follows is an decent update on the werewolves of legend, all the while holding onto some of that mythos. F'instance, there's a gypsy family in the mix, bringing to mind Maria Ouspenskaya of the Universal/Lon Chaney Jr. version. The major update is ferocity: this is a monster. A monster-lovers monster movie.
Kevin M. Williams
Super Reviewer
½
I'm somewhat mixed in my thoughts with this film. On the one hand, it's definitely a movie that requires a whole lot of patience. The pacing, at least during the first half, leaves a lot to be desired as there seems to be a lot going on but the film never really goes anywhere. That definitely makes watching more of a test than I would've thought it to be. But, on the other hand, the film does offer a different take on a subgenre that hasn't seen much innovation in ages. We are talking, of course, about the werewolf genre that, unfortunately, has been in creative doldrums for quite a while. While this particular subgenre will always be popular among horror fans, so therefore that means these films will continually be produced, the fact of the matter is that there hasn't been a big werewolf film that could bring about a resurgence of the much loved genre. And by big, I mean an influential film...not necessarily a studio movie with a big budget. I think this film will, hopefully, inspire other filmmakers to approach the mythos of lycanthropy, vampirism, zombies, etc. with a fresh take. That's not to say that this movie is the most inventive horror movie in the world, but it offers enough different to at least warrant a watch, even if I don't think the film was perfect. While the film has the visceral violence one is to expect from a werewolf film, it also focuses more on the medical reasons for it. The film, outside of the last line and visual effects, doesn't really commit itself to being a werewolf film. It tries to explains Talan's illness as something known as the lunar effect, which is a very real theory. To dumb it down, basically, the theory states that there's a correlation between the earth's lunar cycle and certain behaviors in humans, and animals, that cannot be explained. There's no proof real scientific proof behind this, but it's said that some people act more violent when the moon is full. Like I said, no scientific proof, but it's a theory. The film focuses on that aspect of Talan's illness. It handles it pretty well, not amazingly or anything like that. But, like I said, it offers something that's unique to this film. It's still a pretty violent film, but I'm glad it wasn't just concerned about the gore which, admittedly, could've been much better. They use a lot of computer graphics to create the blood and gore and it doesn't look great. It would've been better if they could've done it practically, but perhaps they didn't really have the budget for that. Because of that, unfortunately, the violence feels a little cartoony. The acting is perfectly solid, nothing to complain about there in the least. The film looks like a documentary to help ground the story to the real world. It works somewhat. While I didn't think this film was good, I can overlook most of its faults because it at least had ambition, something that the horror genre greatly lacks with a few exceptions. I still think it's worth, at least, a rental from horror fans. I think there's enough good ideas here to warrant that at least.
Jesse Ortega
Super Reviewer
Wer Quotes
There are no approved quotes yet for this movie.
Discussion Forum
Discuss Wer on our Movie forum!