Clickbait: Season 1
(2021)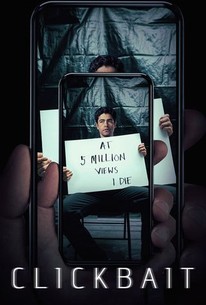 Rate And Review
Clickbait: Season 1 Photos
Audience Reviews for Clickbait: Season 1
If you like a show which depends on completely artificial tactics to keep you watching then this one is for you. Bad acting, bad direction and horrible character development. Most of the twists are contrived rather than feeling organic and in line with the characters. I watched until the end hoping that the final "twist" would be worth it. It was not. The only reason this was given an extra half star was that it the titles and POV of each episode was clever.

Premise was great first episode was OK peaked my interest…..then it turned into a preachy boring mess. The sister character…can't even remember her name was just horribly played and written. Just a disappointing disaster.

I got sucked into this series at the beginning and felt compelled to watch the whole thing. The ending was completely absurd — too much of a stretch and, frankly, a huge letdown.

Solid watch. Story line endured all episodes. Zoe a tad over-dramatic at times was a distraction.

Decent streaming platform with a sister show in Mare of Easttown (in my opinion). Loads of mystery and set up, but the ending was like it was trying to pull a resolution out of it's butt. It worked to a degree, but...well you'll see.

Compelling, taught thriller/drama. Found myself binging this.

The first six episodes were relatively engrossing, but the last two were a real disappointment. The concluding storylines were absurd, just too much of a stretch. Ruined the whole series.

Dreadful programme. My wife was determined to watch until the dreadful ending. The script was poor and the acting even worse. After watching great Netflix programmes such as Ozark and Start-Up, this one really doesn't cut the mustard.

had an interesting premise early on, but went absolutely off the rails in the end and not in a good way, i want those hours of my life back. show was literal clickbait

It's junk but passable entertainment. The resolution to the murder mystery is super dumb.