Family Game Fight!
(2021 - 2022)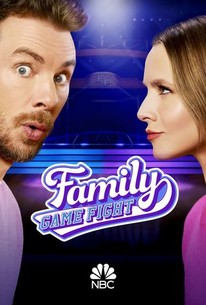 Rate And Review
Family Game Fight!: Season 1 Photos
Audience Reviews for Family Game Fight!: Season 1
It was not fun to watch at all. The games were not so exciting and for sure not funny.

Why, Why, Why, Why are the constants and the celebrities IN A GIANT BED???? Here the CELEBRITIES play the game and all the CONTESTANTS do - while in a Giant Bed - is guess how accurate these stupid celebrities play the game. THE GAMES ARE ALL OF ELLENS, SHE LOST HER SHOW, LOST HER GAMES SHOW AND NOW IS TRYING YO MAKE A NEW SHOW.... it's very clear this show is ALL ABOUT CELEBRITIES.....AND stupidity being in a Giant Bed, playing a game. SERIOUSLY, WHY IT STILL ON TV???

Awful. There's wholesome fun and then there's just stupid.

Kristen Bell has always been one of the most watchable actresses on the planet. She radiates goodness, even when playing bad characters. Dax Shepard is charming as well, especially in the underrated series, "Bless This Mess." But take this super couple and bring them together in any incarnation and it's lightning in a bottle. They're just adorable. The show...who cares. It's "Ellen's Game of Games." But the hosts make this must see T.V.

I loved it! Super fun and I hope they make more.
See Details