2012
(2009)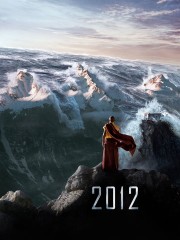 TOMATOMETER
AUDIENCE SCORE
Critic Consensus: Roland Emmerich's 2012 provides plenty of visual thrills, but lacks a strong enough script to support its massive scope and inflated length.
2012 Trailers & Photos
Movie Info
Disaster movie maven Roland Emmerich (Independence Day, The Day After Tomorrow) crafts this apocalyptic sci-fi thriller following the prophecy stated by the ancient Mayan calendar, which says that the world will come to an end on December 21, 2012. When a global cataclysm thrusts the world into chaos, divorced writer and father Jackson Curtis (John Cusack) joins the race to ensure that humankind is not completely wiped out. Chiwetel Ejiofor, Danny Glover, Amanda Peet, Thandie Newton, and Oliver Platt round out the cast of this end-of-the-world thriller co-scripted by the director and his 10,000 B.C. writer/composer, Harald Kloser.
more
Cast
News & Interviews for 2012
Critic Reviews for 2012
Audience Reviews for 2012
½
I got bored incredibly fast. It has fascinating visual effects. And that is where it stops. There are serious issues of race and class struggle that start to peak up towards the end of the movie, but instead of making the movie interesting by exploring these avenues more, Emmerich returns the focus to the most obnoxious of lead characters.
Nikhil Nandu
Super Reviewer
½
I suppose the general idea behind the film was noble, but why did they have to write such a crappy story for it. It's a given to say that the visual effects are excellent. But a decent plot, if such a think ever existed in disaster flicks, would've been a nice touch.
2012 Quotes
Adrian Helmsley: Yes sir. Who are you bringing?
Carl Anheuser: Nobody! Who, my ex wife? Last thing she said to me, never want to see you again. So be it.
Adrian Helmsley: There's a young astrophysicist from India who's the reason we're all here. He's the one who discovered it all. He connected all the dots. We all owe him our lives. I just learned that he was killed with his family in a tsunami in Eastern India. He was my friend. And he died in vain. Everybody out there has died in vain if we start our future with an act of cruelty. What will you tell your children? What will they tell theirs.
Laura Wilson: If my father were here, he would open the gates.
President Sergey Makarenko: The people of Russia along with China, and Japan agree. Open the gates.
German Chancellor: The United Kingdom, Spain, France, Canada, Germany and I believe I may also speak for the Italian Prime Minister we vote to let these people come in.
Scotty: It's been upgraded to a 10.9 by the guys at Harvard.
Adrian Helmsley: What does Caltech have to say?
Professor West: The whole city of Pasadena was wiped out just a few minutes ago. This is coming in from Coachella Valley out near Joshua Tree. That wasn't there this morning. And 400 miles further north, Point Reyes, same thing.
Adrian Helmsley: The San Andreas Fault is shifting.
Professor West: Yes. And all major sister faults in the Bay Area. The whole Pacific plate is destabilizing.
Harry Helmsley: I barely see my boy, but at least we talk.
Tony Delgado: About what?
Harry Helmsley: Life, and how short it is.
Discussion Forum
Discuss 2012 on our Movie forum!
News & Features