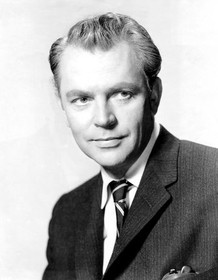 Dan O'Herlihy
Highest Rated: 100% Luis Bunuel's Robinson Crusoe (1954)
Lowest Rated: 27% Waterloo (1970)
Birthday: May 1, 1919
Birthplace: Wexford, Ireland
Character actor and idiosyncratic leading man who performed with the Gate Theatre and the Abbey Players in Dublin before immigrating to the USA, O'Herlihy filled up the screen with a long resume of grand performances in Hollywood films from the 40s to the 90s. An architecture student who turned to acting to earn money for college--He appeared in more than 70 plays on the Dublin stage and played the lead in the original production of Sean O'Casey's "Red Roses for Me"--O'Herlihy wound up working with notables including Orson Welles, Gregory Peck and John Huston after being discovered by British director Carol Reed and cast opposite James Mason in the 1947 thriller "Odd Man Out." O'Herlihy joined Orson Welles' Mercury Theatre and played MacDuff opposite Welles' "Macbeth" in both the stage and (1948) screen version of the play. On the U.S. stage he also appeared in John Houseman's "Measure for Measure" in Los Angeles, "King Lear" at the Houston Shakespeare Festival and "Mass Appeal" at the Drury Lane Theatre, while on-screen he appeared with his 'Macbeth' co-star Roddy McDowall in a low-budget adaptation of Robert Louis Stevenson's "Kidnapped."
Photos
KING OF THE ROARING 20s - THE STORY OF ARNOLD ROTHSTEIN, Dan O'Herlihy, 1961
IMITATION OF LIFE, Dan O'Herlihy, 1959
HOME BEFORE DARK, Dan O'Herlihy, Jean Simmons, 1958
MACBETH, Dan O'Herlihy, 1948
THE BIG CUBE, front first, second and third from left: Dan O'Herlihy, Karin Mossberg, Lana Turner, 1969
THE LAST STARFIGHTER, Dan O'Herlihy, 1984. (c) Universal.
THE PURPLE MASK, Tony Curtis, Dan O'Herlihy, 1955
THE PURPLE MASK, Tony Curtis, Dan O'Herlihy, 1955
MACARTHUR, Gregory Peck, Dan O'Herlihy, 1977
ADVENTURES OF ROBINSON CRUSOE, Dan O'Herlihy, 1954, bottle
THE ADVENTURES OF ROBINSON CRUSOE, (aka LAS AVENTURAS DE ROBINSON CRUSOE), Dan O'Herlihy, 1954
THE ADVENTURES OF ROBINSON CRUSOE, (aka LAS AVENTURAS DE ROBINSON CRUSOE), Dan O'Herlihy, 1954
THE ADVENTURES OF ROBINSON CRUSOE, (aka LAS AVENTURAS DE ROBINSON CRUSOE), Dan O'Herlihy, 1954
THE ADVENTURES OF ROBINSON CRUSOE, (aka LAS AVENTURAS DE ROBINSON CRUSOE), Dan O'Herlihy, 1954
THE ADVENTURES OF ROBINSON CRUSOE, Dan O'Herlihy, 1954
ACTORS AND SIN, Dan O'Herlihy, Marsha Hunt, Edward G. Robinson, 1952
THE ADVENTURES OF ROBINSON CRUSOE, Dan O'Herlihy, 1954
THE ADVENTURES OF ROBINSON CRUSOE, Dan O'Herlihy, 1954
KIDNAPPED, Roddy McDowall, Dan O'Herlihy, 1948
KIDNAPPED, Dan O'Herlihy (left), Roddy McDowall (second from left), Sue England, 1948