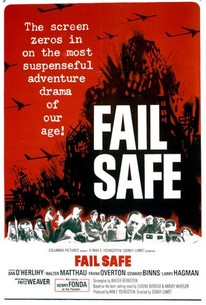 Fail-Safe
1964, Mystery & thriller, 1h 51m
28 Reviews
5,000+ Ratings
What to know
Critics Consensus
Fail-Safe strikes an impressive chord with its grim, high-minded exploration of the ultimate Doomsday scenario. Read critic reviews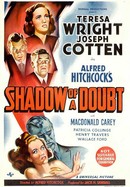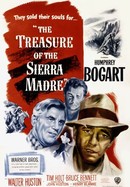 The Treasure of the Sierra Madre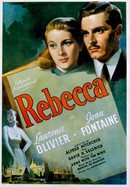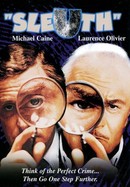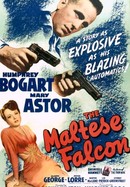 Where to watch
Rent/buy
Rent/buy
Rent/buy
Rate And Review
Movie Info
During the Cold War, U.S. bomber jets are equipped with fail-safe boxes that instruct pilots when and if to attack. When an attack order is inadvertently administered due to a system malfunction, the President of the United States (Henry Fonda) must scramble to fix the mistake before the bombs are dropped on Moscow. He manages to stop almost all the bombers headed for Moscow, except for one determined pilot who manages to complete his mission, with deadly consequences.
Genre: Mystery & thriller

Original Language: English

Director: Sidney Lumet

Producer: Max E. Youngstein

Writer: Eugene Burdick, Harvey Wheeler, Walter Bernstein

Release Date (Theaters): wide

Release Date (Streaming):

Runtime:

Distributor: Columbia TriStar Home Video, Columbia Tristar, Columbia Pictures, GoodTimes Home Video [us]

Production Co: Columbia Pictures Corporation

Sound Mix: Mono
News & Interviews for Fail-Safe
Audience Reviews for Fail-Safe
Once it picks up after its slow start, Fail-Safe is a riveting, quickly-paced Cold War thriller with a stunning conclusion. It's a shame it was so overshadowed by Stanley Kubrick's similar (albeit comedic) work.

This movie is pretty much exactly the same as Dr. Strangelove except that it's more dialogue driven, as Lumet's movies usually are. It also has some boring scenes as Dr. Strangelove did. Overall it's pretty good too.

Old school psychological drama tightly wrapped around the question of limited nuclear engagement, still something of a conundrum in the mid-60s. In the fashion of the day many of the characters are little more than paper thin cutouts, there to advance the plot and nothing more (the writers did shake up the salad a little though to add spice, so against typecasting the main dove of the film is an Army general, while the main hawk is a college professor), but despite this only flaw here is one elephant of a film.

I'm puzzled by the matador/bull-fighting dream scene in the opening that the audience is reminded of at the end. Dr. Strangelove has the US president meeting in person with his advisers in the war room, when talking to the Russian president no translator is needed, and the technology behind the mistake and satellite surveillance is practically ignored. Then of course you've got Sellers in three roles and the same plot is dealt with in a very humorous manner. This movie looks at the same issue dramatically and plays it for thrills. First, you have O'Herlihy playing General Black, an adviser to the US Secretary of Defense (Hansen), then Matthau playing Professor Groeteschele, a civilian political scientist adviser to the same. They take on a reversal of the traditional positions. General Black is a dove when it comes to war matters and the Professor is a hawk. Then we have Overton playing General Bogan and Weaver playing Colonel Cascio. They both work in the control room monitoring the maps and sending orders to the fliers. Binns as Colonel Grady is one of those fliers who is heading off on a routine patrol in a bomber plane. A computer malfunction sends Grady's bomber toward Russia by mistake and the President must be contacted. Henry Fonda plays the President in the same trustworthy, intelligent, kind-hearted, and decisive manner that many of his characters have been. And Hagman is Buck, a young translator brought in to help the President if Russia must be contacted. Well they're all in different locations talking back and forth over conference calls and radio. The Defense Secretary and all his advisers keep arguing politics and war theory, the control room keeps an eye on the progress in the sky, the fliers follow orders to the exclusion of attempts to recall them home because anything could be a Russian trick, and the President tries to be diplomatic and has to make the final decision. It's mentioned again and again that WWIII is on the verge of happening because we let our machines get out of hand. It's also about how we defend ourselves with the destructive forces that are in existence being as they are. There is also a theme of watching that we do not become what we are trying to fight against. It was good with some really surprising moments, but it just wasn't as stylish as Dr. Strangelove. And I love the satiric tone of the other movie. I think the tone of Dr. Strangelove has definitely led to it being more popular. For people who don't get the humor, this may be a thriller they'd appreciate, but on the other hand this movie, Fail-Safe, includes some tough pills to swallow. People who look at war like a football game, like some of the soldiers in the control room do, cheering to see a loser lose need to look at the bigger picture. People who think that any cooperation with a political rival, even when for the mutual safety of many lives, is a bad thing would probably not enjoy the message here. So actually, people who like Dr. Strangelove probably like this too, and people who do not like one probably don't like the other.
See Details