The Dead
(1987)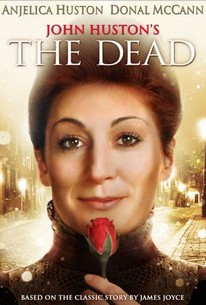 Movie Info
The final film of legendary director John Huston was based on the closing story of James Joyce's Dubliners. Anjelica Huston is top-billed as Gretta Conroy, the niece by marriage of turn-of-century Irish spinsters Kate Morkan (Helena Carroll) and Julia Morkan (Cathleen Delany). At the home of these two curious ladies, Gretta is prodded into remembering her long-dead lover. She tearfully reveals to her husband (Donal McCann) that the deceased boy may well have died on her behalf. Her tale of woe bespeaks the sentiment shared by James Joyce: no matter how long in their graves, the dead will always influence the living. Adding to the film's elegiac quality, it stars Huston's daughter Anjelica and was co-written with his son Tony Huston.
Critic Reviews for The Dead
Audience Reviews for The Dead
Irish bourgeois gather for the Feast of the Epiphany in this adaptation of James Joyce's story. When I read Joyce's story in Dubliners, I thought that it was unfilmable. The conflict exists in the passage of time, the inability to really know another, and the inevitability of death -- all themes that can be conveyed but with the subtlety inherent in Joyce's writing. And when I finished John Huston's adaptation of the story, my opinions haven't changed. What emerges in Huston's work is a work of too much subtlety, and I doubt that I would understand the story's point had I not read Joyce's original work. In fact, I think the film is a good "visual Cliff's Notes" of the story. The performances by Anjelica Huston and Donal McCann are both quite strong. I've never seen Huston as vulnerable as she is in the final scene, and her performance gives the film the grace and emotional power it needs. Overall, this is not a bad film; it's just a good attempt at the impossible.
Jim Hunter
Super Reviewer
It carries a whole universe of emotions.
Pierluigi Puccini
Super Reviewer
½
This is a boring watch. However, it is important to keep in mind that it's intentional. The story is supposed to be awkward, so to the audience, the film will assuredly come across as boring. Still, this was a brilliant adaptation of the famous James Joyce novel. Most of the characters were true to the book with only a few flaws here and there. The tone and setting was spot on, though. Overall, watcheable, but not necessarily the most enjoyable film I have seen.
Jameson Worley
Super Reviewer
The Dead Quotes
| | |
| --- | --- |
| Gabriel Conroy: | "What was it he died from so young? Consumption was it?" |
| Gabriel Conroy: | What was it he died from so young? Consumption was it? |
| Gretta Conroy: | "I think he died for me." |
| Gretta Conroy: | I think he died for me. |