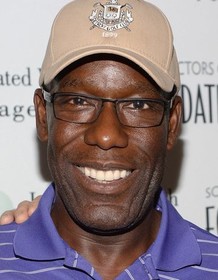 James McDaniel
Highest Rated: 98% Night Comes On (2018)
Lowest Rated: 10% Strictly Business (1991)
Birthday: Mar 25, 1958
Birthplace: Washington, D.C., USA
Handsome, long-faced African-American performer of film, TV and stage who received his break when he assumed the role of C.J. in the hit Off-Broadway production of "A Soldier's Play." His significant association with TV producer-writer Steven Bochco began with an appearance as a militant cop in an episode of "Hill Street Blues." McDaniel has subsequently starred in two Bochco police series: the short-lived musical program, "Cop Rock" (ABC, 1990) and the controversial drama, "NYPD Blue" (ABC, from 1993 to 2001). In the latter, he was Lieutenant Arthur Fancy, sort of a black variation of Daniel J. Travanti's "anchor" role on "Hill Street Blues."
Photos
NCIS: New Orleans, from left: Rob Kerkovich, James McDaniel, Lucas Black, Zoe McLellan, 09/23/2014, ©CBS
TRUTH OR CONSEQUENCES, N.M., left: James McDaniel, 1997, ©Sony Pictures Entertainment
SUNSHINE STATE, James McDaniel, Angela Bassett, 2002 (c) Columbia.
EL CORTEZ, James McDaniel, 2006.(c)Brazos Productions
Sleepy Hollow, Nicole Beharie (L), James McDaniel (R), 09/16/2013, ©FOX
Sleepy Hollow, James McDaniel (L), Nicole Beharie (R), 'Ragnarok', Season 3, Ep. #18, 04/08/2016, ©FOX
Sleepy Hollow, James McDaniel (L), Tom Mison (R), 'Ragnarok', Season 3, Ep. #18, 04/08/2016, ©FOX
Sleepy Hollow, James McDaniel (L), Tom Mison (R), 'Ragnarok', Season 3, Ep. #18, 04/08/2016, ©FOX
Sleepy Hollow, James McDaniel (L), Tom Mison (R), 'Ragnarok', Season 3, Ep. #18, 04/08/2016, ©FOX
KING'S FAITH, from left: Lynn Whitfield, James McDaniel, 2013. ©Walking Giants Entertainment
KING'S FAITH, from left: James McDaniel, Lynn Whitfield, 2013. ©Walking Giants Entertainment
KING'S FAITH, from left: James McDaniel, Lynn Whitfield, 2013. ©Walking Giants Entertainment
NCIS: New Orleans, from left: Dani Dare, Scott Bakula, Rob Kerkovich, James McDaniel, Lucas Black, 09/23/2014, ©CBS
KING'S FAITH, from left: Crawford Wilson, James McDaniel, 2013. ©Walking Giants Entertainment