Steel City
(2007)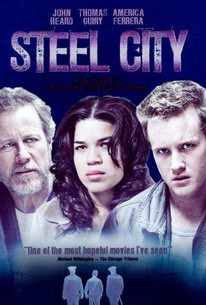 Movie Info
A young man struggles to hold his family together while keeping his own life on track in this independent drama. P.J. Lee (Thomas Guiry) is a teenager growing up in a decaying industrial town in Illinois. Few kids have it easy where P.J.'s from, but he has it harder than most -- his parents split up several years ago, and P.J.'s father, Carl (John Heard), is in jail on vehicular manslaughter charges he's not likely to shake. P.J.'s big brother, Ben (Clayne Crawford), is married and has a life of his own, through his fondness for booze and other women suggests he's following the same sorry path as his dad. P.J.'s mother, Marianne (Laurie Metcalf), is remarried to a police officer, Randall (James McDaniel), and they have little to offer him other than a chance to join the police academy. When P.J. loses his job as a busboy, he finds he can no longer pay the rent on his house, and has a falling out with his girlfriend, Amy (America Ferrera), who works at the same diner. With nowhere else to go, P.J. moves in with his uncle Vic (Raymond J. Barry), but he soon begins to buckle under Vic's "straighten up and fly right" attitude. The first feature film from writer and director Brian Jun, Steel City was enthusiastically received during its premiere screening at the 2006 Sundance Film Festival.
Critic Reviews for Steel City
Audience Reviews for Steel City
CAST: Tom Guiry, John Heard, Raymond J. Barry, America Ferrera, Kristian Best, Rusty Gray, James R. Hentrich, Heather McComb DIRECTED BY: Brian Jun SUMMARY: When PJ Lee's (Tom Guiry) father is arrested for vehicular manslaughter, it's just the icing on the cake for a teen whose life is already difficult, thanks to a broken home and dysfunctional relationships. In short order, PJ gets fired, has a falling out with his girlfriend and is kicked out of the family home. MY THOUGHTS: "This movie had some good acting in it, but the story was a bit slow. The issues they all are dealing with is sad, and the acting is there, it's just the story takes awhile to get going. When it starts theres cops, ambulances, and a crash scene. But it never gives all the details of what happend. But I guess it may not have needed to. If you just sit back and let the movie be and not think about the story and where its going, its watchable. But in the end the acting is the only thing good that came out of this. But I still liked it. Still worth seeing."
♥˩ƳИИ ƜѲѲƉƧ♥
Super Reviewer
½
Here's a film that appears to be about nothing, and yet is about everything. Like a good jazz solo, it's not about what you hear(or see), it's what you don't hear. A little slice of midwest life that's far deepeer than it appears on the surface, akin to an indie version of Mystic River as it plays off the relationships between fathers and sons, and brother and brother. The women are almost an afterthought, and yet here again we see that America Ferrera (Real Women Have Curves, Ugly Betty) is indeed a gifted actress and, when not wearing those hideous braces, fake eyebrows and mismatched clothes that are required on TV, quite beautiful. The acting overall is quite good, and yet there are times when it seems that the actors are hemmed in by the dialogue, even though the dialogue is direct and real (especially in the case of Uncle Vic). When the fim comes full circle, and you can see the sins of the father weighing on the sons, and yet the bond between brothers, even though they disagree with one another, it's a powerful statement of humankinds' yearning to belong to something, lest we become leaves in the wind, living without purpose or hope.
paul sandberg
Super Reviewer
Bleak, sad story about a kid who loses his job, his home, and his father in short order. America Ferrera has never looked better. Just wish she had more scenes as she was the one bright spot in the entire film. Hard to grow up when everything around you is falling apart. PJ somehow manages to turn out alright, although he will carry a load of guilt until his dying day. The scenery only enhanced the bleakness of the script. Well done, if a bit slow occasionally. Stay with it. There is a hint of redemption at the end.
Mark Abell
Super Reviewer
Steel City Quotes
There are no approved quotes yet for this movie.