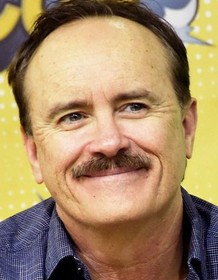 Jeffrey Combs
Highest Rated: 100% What We Left Behind: Looking Back at Deep Space Nine (2018)
Lowest Rated: Not Available
Birthday: Sep 9, 1954
Birthplace: Oxnard, California, USA
Character actor Jeffrey Combs endeared himself to legions of B-movie buffs with a prodigious body of work that specialized in portrayals of mad scientists, historical literary figures, and alien beings of all stripes. Combs burst onto the horror movie scene with his career-making portrayal of Dr. Herbert West, a dedicated, but disturbed scientist, intent on reviving dead tissue in "The Re-Animator" (1985). A slew of similar roles and films followed, including "From Beyond" (1986) and "Bride of Re-Animator" (1990). He also managed to play the literary creator of Dr. West, horror author H.P. Lovecraft in "Necronomicon" (1993). On television, Combs found recurring roles as various aliens on the sci-fi franchise spin-offs "Star Trek: Deep Space Nine" (syndicated, 1992-99) and "Star Trek: Enterprise" (UPN, 2001-05). His virtuoso personification of the father of modern horror, Edgar Allan Poe, in an episode of the cable anthology series "Masters of Horror" (Showtime, 2005-07), proved so successful that it inspired an acclaimed one-man theater show in which Combs expanded upon the role. While other actors might have struggled to break away from the perceived typecasting that defined Combs' career, he instead chose to embrace it, going on to become one of the most revered genre actors in film or television.
Photos
DOCTOR MORDRID, Jeffrey Combs, 1992. (c)Full Moon Entertainment..
LOVE AND A .45, Jeffrey Combs, Rory Cochrane, 1994, (c) Trimark Pictures
THE FRIGHTENERS, Jeffrey Combs, 1996, (c)MCA Universal
RE-ANIMATOR, Jeffrey Combs, 1985, © Empire Pictures
FAUST, Jeffrey Combs, 2001
DOCTOR MORDRID, Jeffrey Combs, 1992. (c)Full Moon Entertainment..
BRIDE OF RE-ANIMATOR, Jeffrey Combs, 1990
RE-ANIMATOR, Jeffrey Combs, David Gale, 1985
BRIDE OF RE-ANIMATOR, Jeffrey Combs, 1990, (c) 50th Street Films
WOULD YOU RATHER, left: Jeffrey Combs, 2012, ©IFC Midnight
WOULD YOU RATHER, seated l-r: Eddie Steeples, Brittany Snow, Enver Gjokaj, standing center: Jeffrey Combs, seated right: John Heard, 2012, ©IFC Midnight
WOULD YOU RATHER, l-r: Jeffrey Combs, Brittany Snow, Enver Gjokaj, 2012, ©IFC Midnight