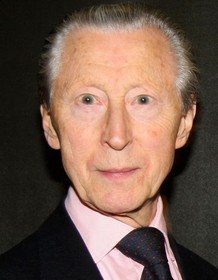 Murray Melvin
Highest Rated: 100% Damn the Defiant! (1962)
Lowest Rated: 33% The Phantom of the Opera (2004)
Birthday: Aug 10, 1932
Birthplace: St. Pancras, London, England, UK
Narrow-faced, slender, haughty-looking character player, best known for his Cannes award-winning performance as Rita Tushingham's sympathetic gay friend in Tony Richardson's adaptation of Shelagh Delaney's "angry young woman" drama, "A Taste of Honey" (1961). A prolific theater actor--he originated the "Honey" role on the stage--Melvin has appeared in several films, including three by director Peter Medak: "A Day in the Death of Joe Egg" (1970), "The Krays" (1990) and "Let Him Have It" (1991). Murray Melvin died on April 14, 2023 at the age of 90.
Photos
A TASTE OF HONEY, Murray Melvin, Rita Tushingham, 1961
THE DEVILS, from left: Michael Gothard, Oliver Reed, Murray Melvin, 1971.
A TASTE OF HONEY, Rita Tushingham, Murray Melvin, 1961
A TASTE OF HONEY, Murray Melvin, Rita Tushingham, Dora Bryan, 1961
A TASTE OF HONEY, Rita Tushingham, Murray Melvin, director Tony Richardson, on-set, 1961
THE DEVILS, Vanessa Redgrave, Murray Melvin, 1971
A TASTE OF HONEY, Murray Melvin, Rita Tushingham, 1961
A TASTE OF HONEY, Murray Melvin, Rita Tushingham, 1961
A TASTE OF HONEY, Murray Melvin, Rita Tushingham, 1961
A TASTE OF HONEY, Rita Tushingham, Murray Melvin, 1961
THE FIXER, from left: Ian Holm, Carol White, Murray Melvin, Dirk Bogarde (back to camera), 1968
A TASTE OF HONEY, from left: Murray Melvin, Rita Tushingham, 1961
A TASTE OF HONEY, from left: Rita Tushingham, Robert Stephens, Murray Melvin, Dora Bryan, 1961
THE PHANTOM OF THE OPERA, Murray Melvin, 2004, (c) Warner Brothers
Filmography
Movies
TV
| | | | Credit | |
| --- | --- | --- | --- | --- |
| 98% | 83% | Torchwood | Bilis (Guest Star) | 2007 |