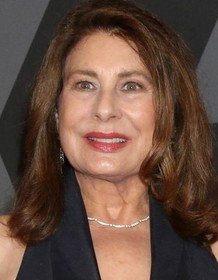 Paula Wagner
Highest Rated: 92% Shattered Glass (2003)
Lowest Rated: 18% Suspect Zero (2004)
Birthday: Dec 12, 1946
Birthplace: Youngstown, Ohio, USA
Formerly one of Hollywood's most successful talent agents, Paula Wagner went on to become one-half of a powerhouse producing duo, alongside her most famous client, Tom Cruise. Initially trained as an actress, Wagner transitioned to agent at Creative Artists Agency in the late 1970s. During her pioneering tenure at CAA as one of the industry's few female agents, she nurtured the careers of such talents as Robert Towne, Demi Moore, Val Kilmer, Oliver Stone, and most notably, Cruise. In 1993, she joined Cruise in forming the Paramount Pictures-based, Cruise/Wagner Productions, which went on to score such hits as "Mission: Impossible" (1996), "The Others" (2001) and "War of the Worlds" (2005), to name but a few. Together, she and Cruise garnered critical accolades, several awards, and literally billions of dollars in box office receipts. Following a rough patch, marked by several theatrical disappointments and Cruise's disintegrating pubic image, the pair became co-owners of United Artists after being let go by Paramount in 2006. The endeavor was short-lived, however, when unequivocal failures like "Valkyrie" (2008), soon led to Wagner's departure from UA and the forming of her own company, Chestnut Ridge, as a solo producer. Preferring not to see herself as a woman in a man's Hollywood world, Wagner nonetheless employed traditionally feminine traits such as communicativeness and empathy to inarguable effect as one of the most formidable producers in the industry.
Photos
Paula Wagner at arrivals for PRETTY WOMAN: THE MUSICAL Tribute Performance for Garry Marshall, Nederlander Theatre, New York, NY August 2, 2018. Photo By: Derek Storm/Everett Collection
MISSION: IMPOSSIBLE II, Tom Cruise, producer Paula Wagner, on set, 2000. ©Paramount Pictures.
ELIZABETHTOWN, Kirsten Dunst, director Cameron Crowe, producer Paula Wagner, Orlando Bloom on set, 2005, (c) Paramount
MISSION: IMPOSSIBLE III, Producers Paula Wagner, Tom Cruise, on set, 2006, (c) Paramount
ELIZABETHTOWN, director Cameron Crowe, producer Paula Wagner on set, 2005, (c) Paramount