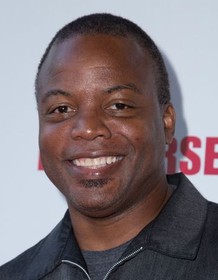 Sterling Macer Jr.
Highest Rated: 74% Dragon: The Bruce Lee Story (1993)
Lowest Rated: 12% Double Take (2001)
Birthday: Nov 28, 1963
Birthplace: Not Available
Sterling Macer's Hollywood career began with roles in "Homefront" (1991-93), "Dogs" (1993-98) and "Harts of the West" (CBS, 1993-94). He appeared in "NYPD Blue" (1993-2005) and "Sweet Justice" (NBC, 1994-95). During the early stages of his acting career, Macer worked in films like the action flick "Dragon: the Bruce Lee Story" (1993) with Jason Scott Lee. Several more television roles followed in the nineties, including stints on "John Grisham's The Client" (CBS, 1995-96) and "Cracker" (ABC, 1997-98). He also landed a role in the miniseries "Peter Benchley's The Beast" (1995-1996). He also had a part in the TV miniseries "Tom Clancy's NetForce" (1999). He held additional roles in television including a part on "CSI: Crime Scene Investigation" (CBS, 2000-2015) "Double Take" (2001) and "House of Lies" (Showtime, 2012-16). Macer's most recent role was in "Where the Crawdads Sing" (2022) produced by Reese Witherspoon.
Skip to Quotes