Badland
(2007)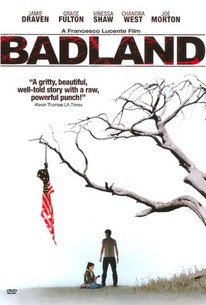 Movie Info
Jerry is a Marine reservist who was a young patriot and idealist when he served in the first Gulf War. But when he is called up for deployment to Afghanistan and Iraq, Jerry is a father of three; older and embittered by a life besieged by broken promises, and unfulfilled desires. Jerry returns a changed man, transformed by horrors committed that go beyond comprehension and sanity, pain inflicted that cannot be forgiven. He lives a life of poverty, his children afraid of his unexplained outbursts of rage, his wife, Nora, unsympathetic to the nosebleeds and night terrors he suffers. She hides money her sons earn from their paper route in case they need to leave. Their crowded trailer home becomes a prison. His failure as a man, his actions as a soldier, is the punishment which they share. He realizes that the respect and dignity he has spent his life trying to achieve will always elude him. When Jerry discovers that Nora has betrayed him, his anger and despair drive him to commit an act so heinous and irreversible that nothing he has experienced in combat could have prepared him for. "Badland" is examines the aftermath of war on a returning Iraq war veteran and his family. It is the story of a man who loses his soul and how a daughter's love and faith brings redemption to his unspeakable crimes.
Critic Reviews for Badland
Audience Reviews for Badland
First off, there is absolutely no reason for this flick to be almost three hours long. That being said, 'Badland' is a pretty messed up drama about a traumatized war vet who the audience is asked to sympathize with after he kills his wife and two of his kids. The final scene is an ambiguous cop out, but everything leading up to it is unintentionally funny and tragic melodrama.
Nick Murphy
Okay so I know I've been known to give spoilers before, and I know that, that usually doesn't make for a good review for many various reasons. However, this movie is so bad, I cannot fully describe to you how horrible this movie actually is without going through the movie as a whole. So if you don't want this movie spoiled stop reading after this next sentence. This movie sucked, and it sucked hard never watch it. For those who don't care or are curious as to why I think it sucked here it goes. So it starts out, and Jerry the protagonist has been dishonorably discharged from the military. He is working a dead end job in which he is being accused by his boss of stealing or getting the numbers wrong on the amount of propane sold (where's Hank Hill when you need him). He storms off and his boss fires him. He gets home and we see his family is living in complete poverty and he has three kids. Two sons and a daughter. The sons gave money to his wife and that angers him. It is also revealed that he has a soft spot for his daughter. We then witness he and his pregnant wife argue. Now profane language in a movie definitely doesn't bother me, especially considering that The Big Lebowski, Reservoir Dogs, Goodfellas, and Full Metal Jacket are some of my favorite films. However I feel that this movie uses it for no real reason at all other than to show that the marriage is falling apart. That's all fine and good but when every other word they're dropping the f bomb just because, that bothered me. Specifically for the fact that it felt that, that was the only way they could show the deterioration of the marriage. So now the next day Jerry goes to his work place and finds that his buddy was the one that was stealing the propane and blaming him. He beats him up and Jerry goes into the shop like he was going to steal the money, but he leaves in a hurry leaving the cash register open and the store unlocked. This is where it gets confusing, the issue of the propane is never addressed again. Now he also finds that his wife is keeping money from him, yet the reason is never identified. This is also where the movie spirals out of control. The wife attempts to confront him about the money, but is interrupted by a phone call from the boss saying they were robbed and he accuses Jerry. During the phone call the wife says "we would be better off if you had died." Jerry then proceeds to kill his pregnant wife, kill his two sons, attempts to kill his daughter, but he gun jams. His daughter begs for mercy and he turns the gun on himself, but his daughter persuades him not to. Okay so other than the unresolved issues I accept this. However, he and his daughter flee and the mood of the film completely shifts. It goes from the feeling of "holy crap he killed most of his family, what is he going to do" to " oh look at that father daughter road trip." The daughter basically convinces herself that everything will go back to normal eventually which I accept. That sounds like something a small child would do. However, the movie plays it off in such a way that it tries to get you to feel sorry for and side with a guy who murdered his family because of a mental break from his experiences from the war to home. Mental break or no there is no way that the movie should ever try to go with that approach. They then continue with this quasi fairy tale where he meets this nice girl and there seems to be some connection and they move in together. So now we have to accept and embrace the fact that he killed his family and is starting over. He then also sort of makes friends with another veteran who just got back. The veteran happens to be the sheriff. So he finds out who he is, and as a movie goer you then begin to question the following options. Does he kill the sheriff and keep running, or does he kill his daughter and himself, or even yet does he just kill himself. Well he ends up taking the sheriff out for a ride, and might have killed him. That's right he pistol whips him a few times and he collapses and he drives out. So he might be dead or might not. Okay so what now you ask? Well this is where it gets even better. He and his daughter run off, and it is revealed that he intends to drop his daughter off at an aunt's, and he would go his separate ways presumably to kill himself. So what happens? He and his daughter have a fight, he takes her out of the car and drives off. He looks back at her, gets distracted and hits a car. He gets out with a gun and sees the police heading right toward him. His daughter runs out to him and WHAM! gets hit by a car and killed. He runs to her body and cradles her in his arms and it fades to black. Oh but wait there's more... It then is revealed that it is back to the beginning right before he shoots his wife and he just sits there thinking and it cuts to his daughter who has a mysterious look on her face. The movie ends with a still of her face. So this movie has a few different interpretations. Was it all a dream and it happens to have the biggest cop out of an ending known as the "and then I woke up". Or was the little girl right, and god would send them back home and things would be better. Either way they both suck. The reason is that the audience is emotionally invested into the story even if it isn't much of one, and then everything that happened didn't or didn't matter so you watched it for nothing. So you may be wondering is there anything good about this movie? The answer is hell no. All of the characters either flip flop worse than Kerry or are just static. For instance, the main character doesn't change ever, just may have killed his family. The daughter flip flops from following dad blindly to hating him. There is a reason she would change one time, but over and over again is just for purpose of melodrama. The only interesting character that they don't do enough with the sheriff played by Joe Morton. I cannot accurately express my complete and utter disdain of this film, if you can even call it that. Do not waste your time with this garbage.
Dutch Vandar
An ex vet kills his wife & 2 kids then goes to kill his daughter but the gun jams so he takes her on the run.Seems like 1/2 the time were suppose to feel sorry for him or something.I watched the movie just hoping he was gonna die a horrible death or something in the end
Brody Manson
Super Reviewer
Badland Quotes
There are no approved quotes yet for this movie.
Discussion Forum
Discuss Badland on our Movie forum!