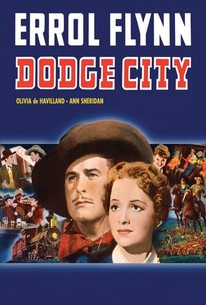 Dodge City
1939, Western, 1h 44m
13 Reviews
2,500+ Ratings
Where to watch
Rent/buy
Rent/buy
Rent/buy
Rate And Review
Movie Info
In 1872, Dodge City, Kansas is the epicenter of cattle drives and lawlessness. Run by Jeff Surrett (Bruce Cabot), Dodge City isn't safe for anyone or anything. When Wade Hatton (Errol Flynn) arrives for a cattle drive, he's moved by the violent death of a young boy to take up the post of sheriff and take back the town from Surrett and his cohorts. But first he must contend with the rowdy townsfolk who, having been so long without law, desire to take the law into their own hands.
Audience Reviews for Dodge City
Warner Brothers thought to try Errol Flynn (the latest Douglas Fairbanks at the time), in a western, but he himself was not too sure that his adoring public would accept him, a popular Swashbuckler, in a saddle. He needn't've worried as he, Director Michael Curtiz, and the usual gang of Warner Brothers stock players (including Alan Hale, natch!) serve up a rousing oater good enough for even John Wayne. The barroom brawl has only been topped by Mel Brooks, so go figure. and, of course, waiting in the wings, the ever so demure Olivia de Havilland.

Errol goes out West for a gunslinging Tombstone style clean up of new city, Dodge City. I'm not totally keen on westerns to be honest, apart from afew Eastwood pictures they just aren't my thing. Like all westerns of this era they do look kinda quaint and too charming, not very realistic compared to more later westerns (of course), the acting is oh so sweet haha its all very nice and darling with a reasonable amount happening to keep you interested. Olivia de Havilland (film 5 of 9 together with Flynn) and Alan Hale both join Errol again in fine form directed AGAIN by Curtiz...the Warner super star director of all star cast pictures. There is actually plenty of action and fighting with a reasonable amount of smooching here, the technicolour is evident and lovely yet not as good as other films and locations are rural and real, not much set work by the looks of it. Not the best Flynn film for me but I can see why its a classic.

A fantastic western. Errol Flynn is magnificent, as his transition from swashbuckler to western seems effortless, and he proves he's just adept with a gun as he is with a sword. This is a must see for all western fans as it paved the way for the genre.

Another classic film from that golden year in cinema of 1939. This rousing western stars Errol Flynn as ex-soldier, now cattle driver Wade Hatton. Yes, I said Errol Flynn..he of the swashbuckling films like Robin Hood, Captain Blood, and The Sea Hawk. And before you can say it won't work, Flynn is awesome from the get go. He is perfectly at home in a western with a six gun as he would be in Sherwood Forest flinging arrows. The story has him delivering some cattle to the wild and dangerous town of Dodge City. Along the way he also guides a wagon train through the treacherous countryside. That's where he meets Abbie Irving (played by the lovely De Havilland) and her troublesome brother. Well when her drunk brother causes a stampede and shoots at Wade, Wade shoots back and injures the kid. After that unfortunate incident Abbie has no use for wade. Finally when the wagon train arrives in Dodge City, Wade encounters the local bad guy..Jeff Surrett (played to the evil hilt by Bruce Cabot) who has a habit of killing men who he buys cattle off of and keeping the money for himself. Well Wade reluctantly agrees to become town sheriff after he sees a tragic accident and becomes Surrett's worst enemy. Eventually Abbie comes around and starts liking him too. Dodge City is a super western, staged with impressive action scenes including a wild saloon bar fight that leaves the place in shambles. The color is extraordinary and the music score is heavenly. Errol Flynn is perfectly cast as Wade as he shows that he won't take any guff from anyone. Olivia is just amazing. Every time I hear her voice, I fall in love with her. She has the most wonderful accent you will ever hear. Also Ann Sheridan, the Oommph Girl is on hand as a saloon singer who gets to belt out a couple of energetic numbers. Plus the banter between Errol and Olivia only solidifies why they were one of the best on screen couples ever. Dodge City is one of the best westerns ever to come out of Old Hollywood and I highly recommend it. -------------------------------------------------------------------------------------- Wade Hatton: You know, out here the trail boss has sometimes even got to take the law into his own hands. Abbie Irving: Oh, yes, pioneering I believe you call it, don't you?
See Details