Holiday Affair
(1949)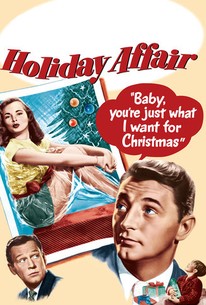 AUDIENCE SCORE
Critic Consensus: No consensus yet.
Movie Info
A disarming little trifle, Holiday Affair has in the years since its original release become a Yuletide perennial on television. War widow Janet Leigh hasn't the money to buy the model train that her son Gordon Gebert wants for Christmas. Robert Mitchum overhears the boy's plight, and offers to purchase the train for him, even though it will deplete his own money supply. This little gesture of kindness from Mitchum snowballs into a series of comic complications, thanks in part to the unwelcome intervention of Leigh's stuffed-shirt attorney boyfriend Wendell Corey. Harry Morgan shows up towards the end as a flustered night-court judge who helps tie some of the loose plot ends together. Based on a short story by John D. Weaver, A Holiday Affair didn't do too well at the box office, but its afterlife has been most satisfactory.
Critic Reviews for Holiday Affair
All Critics (2) | Fresh (2) | Rotten (0)
Mitchum's interplay with Leigh is a sweet treat, carrying the movie through its more routine segments.
It's perfect for those who like their holiday films retro, sweet and as laid-back as Mitchum.
Audience Reviews for Holiday Affair
½
"Holiday Affair" is a sweet if slight film revolving around a love triangle (or more accurately, a love pentagram) as a war widow (Janet Leigh) is romanced by two opposing suitors: one, an ideal companion and father for her young son, the other, an impulsive and brash (yet charming) idealist (Robert Mitchum), who is noble almost to a fault. Wendell Corey plays the widow's next door neighbor, loyal and doting, pretending not to notice (so blinded he is by love) that his affections aren't returned in quite the same ardent fashion. A chance meeting with suitor #2 and it's clear which one she could fall for. But he is wary of entering a relationship with a woman so clearly pining away for her dead husband. In the end, it's not between suitors the woman must choose, but between the living and the dead.
Devon Bott
Super Reviewer
I think I liked this movie so much because of Tim, who is really a swell kid. One might believe that Connie has to choose between two men in her life, but Tim is the one who takes the final decision. I also enjoyed breakfast in the park, when unexpected things can happen to those warm hearted who take care of orphan squirrels.
Alice Smith
Super Reviewer
½
A cute, but predictable, romantic comedy with a good cast.
Holiday Affair Quotes
| | |
| --- | --- |
| Connie Ennis: | Oh, you're always so wrong about me. I have a wonderful memory of a husband and a marriage. You're trying to take it away from me. |
| Steve Mason: | Nobody wants to do that. I know. I'm sure Carl doesn't. All anybody wants is for you to live in the present and not be afraid of the future. You know, maybe it could happen again if you quit pretending that something that's dead is still alive. |
| Connie Ennis: | Oh, alright, if it will make you any happier, you're a fortune teller. You're absolutely right about me all the time. I want everything just the way it is - Mrs. Status Quo. Just me and Timmy - no changes. |
| Steve Mason: | And I want a girl that'll drop everything and run to me, no matter what the score is. |
Discussion Forum
Discuss Holiday Affair on our Movie forum!