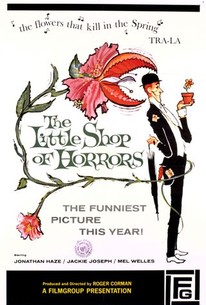 The Little Shop of Horrors
1960, Comedy, 1h 10m
14 Reviews
50,000+ Ratings
Where to watch
Subscription
Subscription
Rent/buy
Rate And Review
The Little Shop of Horrors Photos
Movie Info
Seymour Krelboin (Jonathan Haze) works in the Skid Row flower shop owned by Mr. Mushnik (Mel Welles). In his spare time, Seymour creates a new plant species he names Audrey Junior in honor of his girlfriend Audrey (Jackie Joseph). Audrey Junior begins speaking and demands to be fed human blood and flesh, convincing Seymour to kill a railroad detective, a sadistic dentist and a trollop. Seymour's guilt over the deaths forces him to confront Audrey Junior in a final confrontation.
Genre: Comedy

Original Language: English

Director: Roger Corman

Producer: Roger Corman

Writer: Charles B. Griffith

Release Date (Theaters): original

Release Date (Streaming):

Runtime:

Distributor: The Filmgroup

Production Co: Santa Clara Productions
News & Interviews for The Little Shop of Horrors
Audience Reviews for The Little Shop of Horrors
Think of a roomful of people all doing Jerry Lewis' New York Jew boychick routine for a little over an hour and you've got an idea of the comic goals sought after here, like an Mad magazine parody brought to life already. There are some laffs, granted, but let's remember it's a Corman effort, with the corresponding amount of thought behind it. Cute.

Assessing the value of old films is tough at the best of times, but assessing old horrors or comedies is especially difficult. Both genres are the subject of constant innovation and changes in taste, and it is almost impossible to predict how well a given joke or scare will date. All a filmmaker can do is to convince themselves of the quality of the material they are presenting at the time; then they must step aside and let things take their course. The Little Shop of Horrors is a tricky customer for this very reason. Both as a horror and a comedy, it has dated very badly over 52 years, to the point where it is hard to tell whether it was intended to be scary, funny or both. It is of great historical and technical interest due to the circumstances under which it was made and its context within Roger Corman's wider career. But like Battleship Potemkin, technical admiration can only take us so far before we reach the obvious conclusion: as well as the film is mounted, it doesn't really work. You have to hand it to Corman for the speed at which the film was put together. If you wanted to damn it with faint praise, you could say that it is the best-looking film ever made in two days and a night (plus reshoots). This might not seem like much in our digital age, when the likes of Channel Awesome can shoot something as good-looking as Suburban Knights or To Boldly Flee in under a week. But when you're dealing with 35mm film cameras and 1960s lighting setups, achieving anything significant in two days is quite something. The Little Shop of Horrors epitomes Corman's principles as a filmmaker: efficient, crowd-pleasing storytelling on a very low-budget with plenty of ingenious spectacle. All the sets in the film were left over after shooting wrapped on Corman's previous film, A Bucket of Blood. The title sequence finds the director unashamedly cutting corners, giving us an animated opening more reminiscent of St. Trinian's than Skid Row. No scene is allowed to overstay its welcome, and the whole film is very short, clocking in at just over 70 minutes. The film has a number of resemblances to its great contemporary The Twilight Zone. The plot has the scope of a short story or half-hour TV episode, with self-contained characters occupying a microcosm rather than an expansive, cinematic landscape. It feels like a teleplay in places, partly due to Corman's camerawork and direction, and partly due to the hammy acting of most of its main players. You could almost call it a Twilight Zone episode in search of a moral, or perhaps one that had forgotten what its moral was. Like many films of the period, The Little Shop of Horrors often lets its music do the work for the actors. Because none of the main stars are particularly charismatic or memorable, we spend a great deal more of our time focussing on the other means by which Corman conveys emotion or creates tension. This is not a bad thing in and of itself, and when used correctly it can be a good way of giving a more upmarket feel while covering over budgetary shortcomings (Thunderbirds did it all the time). In this case Corman works well with two separate musical forces - Ronald Stein, who scored a great many of his films, and Fred Katz, who appeared with Chico Hamilton in The Sweet Smell of Success. As good as the music is, however, it can't cover over the campy and clichéd nature of its characters. The cast are a catalogue of Jewish stereotypes - the money-lover (Gravis Mushnick), the hypochondriac (Seymour's mother), the woman in constant mourning (Mrs. Shiva) and the well-meaning klutz (Seymour himself). For all the appeal of Jewish humour, it's over-egged to such an extent that none of the characters seem remotely likeable or charming beyond their peculiar neuroses. Even if Corman intended the film as a spoof, the main couple are still annoyingly ditzy. The big problem with The Little Shop of Horrors is that is too goofy to be scary. Much like the Abbott and Costello features of the same time, it falls into the trap of trying to make us laugh at dated horror conventions which still expecting us to find them creepy. It is very difficult to be simultaneously hilarious and horrifying, and for all the potential in both the comedy and horror elements, the film ends up feeling as lifeless as Audrey does at the end. The film does have an intriguing central horror concept, around which most of the comedy is built. The idea of a man-eating plant, which in some way takes on the form of its victims, is a cunning combination of both vampire fiction and the pod people from Invasion of the Body-Snatchers. There's nothing as creepy in this film as there is in Don Siegel's work (let alone the Philip Kaufman remake), but the scene where Seymour drops blood into the plant's beak is still a little unnerving. There is also potential in the film's comic conceit, namely Seymour's attempts to keep the plant from his boss and Audrey, so he can keep his job and get the girl. In the right hands, this could have been a really good, edgy black comedy in the manner of The Ladykillers or Kind Hearts and Coronets, another story that combined romance with murderous impulses. But in Corman's hands, he opts to play both kinds of potential against each other for goofy humour, and the result is altogether lacklustre and disappointing. The best scene by far in The Little Shop of Horrors is the celebrated cameo by Jack Nicholson as the masochistic undertaker Wilbur Force. Despite this only being his third film role, Nicholson has ten times more presence, charisma and control than anyone else. He's so good that when we first see him on screen, we feel like we've only just met the main character, and spend the remainder of the film wondering what became of him. The role plays to Nicholson's strengths, treading on the fine line between being in on the joke and just straight-up warped. The dental scene is proper horror-comedy, foreshadowing Steve Martin's appearance in the far-superior remake. If we attempt to ignore the film's many shortcomings as a genre piece (of either kind), it is possible to enjoy The Little Shop of Horrors as something of a camp classic. It's never as endearing or as effective as the camper offerings of Hammer, but it retains a kind of odd, misshaped charm which may lead audiences to embrace its flaws as much as loving it in spite of them. Just as we can enjoy Showgirls as an unintended comedy, so it's entirely possible to ironically appreciate the film as a poorly-done, vampy horror movie. When viewed in this light, the technical aspects of the film start to gain a little more weight. The special effects used to create Audrey are really no better or worse than those in Invasion of the Body-Snatchers, and because Audrey's movement is far more restricted, it is easier to maintain the illusion that she is more than just a man in a beak costume. The faces in Audrey's flowers may be too close to Bill and Ben to be in any way scary, but Corman does at least build up to the big reveal in a decent way. The Little Shop of Horrors is a dated and disappointed offering from Roger Corman, though it isn't by any means bad enough to tarnish his glowing reputation. For all the potential in both the comedy and horror elements, the film never successfully meshes them together and ends up collapsing into a lifeless, shambolic heap. It's still of interest on an historical level, or for film students who want to learn just how quickly you can shoot a scene. But for casual fans, young or old, this is one instance in which it's best to plump for the remake.

It's an actually pretty impressive film, shot in only 2 days. The film's black humour was just about right for my liking, it's also a treat to see Jack Nicholson too. One of the best low budget films ever.

....This film is too cheesey for me, I'm sorry..
See Details