Quo Vadis?
(1951)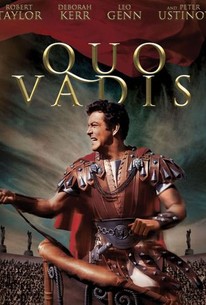 Movie Info
A Christian woman falls for an agnostic Roman soldier during a time when Emperor Nero plans to wipe out Christianity completely and rebuild Rome after burning it to the ground. As their love deepens, the soldier begins to discover a faith he didn't have before. A Best Picture nominee.
Critic Reviews for Quo Vadis?
Audience Reviews for Quo Vadis?
Apparently, the term "quo vadis" translates to "boring" in both Latin and English.
Christian C
Super Reviewer
½
"When all this sets with the final sun, remember the look of Acte."To my understanding, "Quo Vadis" was the first big-budget Bible drama. It was directed by Mervyn LeRoy (The Wizard of Oz) and boasts eight Academy nominations and two Golden Globes. It may pale to "Ben-Hur" but it has some very moving scenes--like when the Christians are led singing into the coliseum and Peter's testimony in the catacombs--and redeeming vaules such as "Do not be unequally yoked" "Love your enemies" and "Be ye faithful unto death and I shall give thee a crown of life."Robert Taylor in the leading role is somewhat irritating athough it is appropriate since Marcus Vinicius is a pompous, narrow-minded, self-absorbed centurion. His main drawback as an actor is while everyone else has a British accent, he has an American accent.The real stars are Peter Ustinov and Patricia Laffan as the evil emporer and empress. While the lions eat the Christians, they sit back and take their lunch as if they were watching a comedy--a sight not soon forgotten. The appearance of Eunice (Marina Berti) is somewhat pointless but she is helpful in providing some comic relief (such as kissing the bust of her master) in a relatively serious tale. Leo Genn, Finlay Currie, Deborah Kerr, Rosalie Crutchley etc.) deliver splendid performances that elevate the core values of the film."Ben-Hur" will always be the greatest sword-and-sandal epic but if it hadn't been for precedents like "Quo Vadis" and "The Robe" it might never have been made. Well worth your money and your time.
Lukas Miller
Super Reviewer
Enjoyable biblical epic, gargantuan in scope and eye poppingly colorful. Professionally acted by Taylor and Deborah Kerr this is stolen by the florid Peter Ustinov and Leo Genn who gives the film's best performance. Unlike many of these types of films this one while quite long at least keeps moving at a decent clip. And of course it all has that high gloss classic era MGM sheen that just can't be replicated today no matter how many computers are used.
Quo Vadis? Quotes
| | |
| --- | --- |
| Marcus Vinicius: | That beggar-faced philosopher shouldn't be stuffing your luscious little head with such nonsense. |
| | |
| --- | --- |
| Nero: | "Tigellinus, the weeping vase!" |
| Nero: | Tigellinus, the weeping vase! |