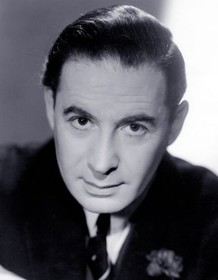 Leo Genn
Highest Rated: 100% Henry V (1945)
Lowest Rated: 57% 55 Days at Peking (1963)
Birthday: Aug 9, 1905
Birthplace: London, England, UK
The career of British-born actor Leo Genn reached its Hollywood peak in 1951 with the Roman Empire saga "Quo Vaids." Genn for his turn as Petronius and Peter Ustinov as Nero were both nominated that year for Best Supporting Actor Academy Awards, losing to Karl Malden for "A Streetcar Named Desire." (Ustinov did, however, win the Golden Globe that year.) Four years later, Genn was the third corner of the infamous love triangle in a French production of "Lady Chatterley's Lover." His was a journeyman's career, with ultimately more forgettable lows than memorable highs. Certainly, his beginnings in 1930s London theater, playing opposite Laurence Olivier, for example, in a production of "Hamlet," held more promise than what eventually transpired. Other noteworthy credits include 1953's "Personal Affair," 1956's "Moby Dick," and the 1960 Italian drama "Escape by Night," directed by Roberto Rossellini. Ironically, one of Genn's most recognizable appearances on film was an uncredited one. In 1938's "Pygmalion," he was the dancing partner of Eliza Doolittle (Wendy Hiller) during the Duchess' Ball sequence.
Photos
PARATROOPER, (aka THE RED BERET), Leo Genn, 1953
NO TIME TO DIE, (aka TANK FORCE), Leo Genn, 1958
THE MINIVER STORY, Greer Garson, Leo Genn, 1950
BEYOND MOMBASA, Leo Genn, 1956
THE RED BERET, (aka PARATROOPER), Leo Genn (front), 1953, trb1953al-fsct04, Photo by: (trb1953al-fsct04)
MOURNING BECOMES ELECTRA, Rosalind Russell, Michael Redgrave, Raymond Massey, Katina Paxinou, Leo Genn, Kirk Douglas, 1947
QUO VADIS, Leo Genn (second from left), Peter Ustinov as Nero (crown), Patricia Laffan (reflining right), 1951
MOURNING BECOMES ELECTRA, Leo Genn, Rosiland Russell, Kirk Douglas, 1947
GREEN FOR DANGER, from left: Rosamund John, Leo Genn, 1946
THE SNAKE PIT, Olivia De Havilland, Leo Genn, 1948, TM & Copyright (c) 20th Century Fox Film Corp. All rights reserved.
GREEN FOR DANGER, Alastair Sim, Trevor Howard, Leo Genn, 1946
GREEN FOR DANGER, George Woodbridge, Rosamund John, Trevor Howard, Alastair Sim, Leo Genn, 1946
THE WOODEN HORSE, Dan Cunningham, Leo Genn, David Tomlinson, 1950
QUO VADIS, D.A. Clarke-Smith, Alfredo Varelli, Geoffrey Dunn, Peter Ustinov, Nicholas Hannon, Leo Genn, Patricia Laffan, Robert Taylor, 1951
GREEN FOR DANGER, Sally Gray, Leo Genn, Trevor Howard, 1946
THE GREEN SCARF, from left: Kieron Moore (far left), Ann Todd (bride), Leo Genn (far right), 1954
THE GREEN SCARF, from left: Richard O'Sullivan, Jane Lamb, Jane Henderson (rear), Leo Genn, 1954
THE WOODEN HORSE, Dan Cunningham, Leo Genn, 1950
DRUMS, (aka THE DRUM), from left: Leo Genn, Raymond Massey, Sabu, 1938
PLYMOUTH ADVENTURE, Leo Genn, Gene Tierney, 1952