The Way Ahead (The Immortal Battalion)
(1945)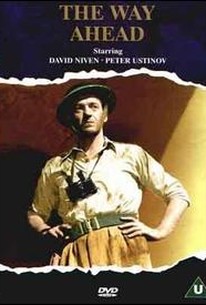 The Way Ahead (The Immortal Battalion) Photos
Movie Info
The Immortal Battalion has a bit of a convoluted history. It started life as a training film, The New Lot, which ran 44 minutes. When Winston Churchill approached David Niven about creating a film that would do for the British Army what In Which We Serve had done for the Royal Navy, he contacted Carol Reed and suggested expanding The New Lot. The result, written by Eric Ambler and Peter Ustinov, was the acclaimed The Way Ahead. For its U.S. release, Way Ahead was edited to a shorter length and retitled The Immortal Battalion. In either of its feature length forms, the film is concerned with the training of a bunch of raw recruits into a capable and efficient fighting regiment. Niven stars as Jim Perry, a lieutenant and former ordinary guy who finds that he must learn to take a tough line in order to make his wildly diverse crew come together and understand the importance both of the war and of their place in it. Although it takes time and constant effort on the part of Perry and his sergeant, the eight men eventually overcome their different backgrounds and feelings, and transform themselves into a unit which performs its tasks with admirable skill and dexterity, preparing them for their battle against the Desert Fox in Africa. Told in a semi-documentary style, Battalion also features the screen debut of Trevor Howard. ~ Craig Butler, Rovi
Critic Reviews for The Way Ahead (The Immortal Battalion)
Audience Reviews for The Way Ahead (The Immortal Battalion)
½
Quite possibly the best David Niven film ever, this World War II propaganda piece from Britain features solid performances from a worthy cast of character actors of the era, resentful of the army at first for its encroachment into the freedom of their civilian lives but growing into a competent troop of soldiers itchy for combat. I've seen American films like this and it was nice to compare the two. There is no bloodshed throughout the film and of course it ends heroically. In all this is a rousing feature for the boys at home.
Kevin M. Williams
Super Reviewer
½
Excellent performance by David Niven. The movie kept my interest. I've seen it all before--the ragtag bunch of draftees becomes a top flight fighting unit. It's good, but I doubt I'll watch it again. This was made during WWII so that gives it a slightly different edge.
Morris Nelms
Super Reviewer
The Way Ahead (The Immortal Battalion) Quotes
There are no approved quotes yet for this movie.