Live Wire
(1992)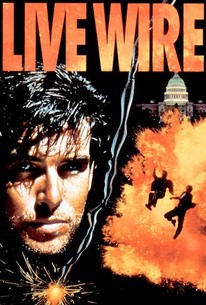 Movie Info
Pierce Brosnan stars as Danny O'Neill, an FBI explosives expert on the trail of a mad bomber in this made-for-cable thriller.
Critic Reviews for Live Wire
All Critics (5) | Fresh (0) | Rotten (5) | DVD (1)
Com sua cena de sexo cafona, seus diálogos patéticos, seus efeitos trash e seu roteiro absurdo, quase acaba servindo como diversão involuntária. Quase.

Man, the Bond films came just in time to rescue Brosnan from swill like this.
Capital Times (Madison, WI)
Audience Reviews for Live Wire
A very entertaining picture that goes by fast. Pierce Brosnan and Ron Silver are great. I just enjoy the explosions the most and the way the film presents itself. It can be funny and sometimes rather violent but it is enjoyable. I enjoyed the soundtrack. Overall, its a fun action movie.
Matthew Marks
I caught this film about half way through . Just in time to see (get ready for this ) a clown with liquid nitrogen in his blood stream in a wheelchair get pushed by Peirce into a sovenier stand only to burst into oblivion . That wasnt the whole of it either their were many (4 or more ) slow motion shots of peirce 2 minutes or longer walking down the street fixing his hair . To cap this complete flounder of a film at the end (1 minute to credits )he disarms a bomb while a cop notifies him of his wifes water breaking . The bomb is under some womans butt in a car and he cant help but compliment her on her choice of underwear . Then in slow motion again he jogs off into the sunset . This total clam of a film makes one wonder a number of things mainly did the director actually feel there was an ounce of merrit to this cow patty . I cant help but think Pierce did everything in his power to purchase and destroy any trace of this film , its script anyone who witnessed it and so forth .
Jackhammer Thomas
½
It's one of those movies in which an absolutely ludicrous "ultimate weapon" is developed and used, and since the thing's existence is outright impossible, nobody in the movie is able to explain to the viewer how it works. They just say something like "it's a combination of nitro and napalm and...anyway, it's complicated." Yeah, you know the type. A ten-year-old kid could have come up with the story. The thing is, I expect more from adult writers who should know better than this.
Christopher Poole
Live Wire Quotes
There are no approved quotes yet for this movie.
Discussion Forum
Discuss Live Wire on our Movie forum!