AKA
(2002)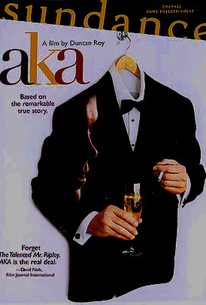 Movie Info
Set in 1978 England, AKA opens with 18-year-old Dean (Matthew Leitch) being kicked out of his working-class home by his abusive father. Shy but socially ambitious, Dean subsequently finds work with high society marm Lady Gryffon (Diana Quick), who introduces him to the privileged set. However, Dean does something to perturb the good lady, and is unceremoniously kicked out of her household. Loathe to part company with the perks of high society, he assumes the identity of Lady Gryffon's son, Alex, and relocates to Paris. There, he makes the acquaintance of Benjamin (Peter Youngblood Hills), a cute but drug-riddled American, and Benjamin's lover David (George Asprey), an older playboy who has the hots for Dean. What unfolds is a tale of deceit, class warfare, and the complexities of sexual identity. AKA was screened at the 2002 Philadelphia Gay and Lesbian International Film Festival. ~ Rebecca Flint Marx, Rovi
Rating:
R (For Sexuality, nudity, language and drug use)
Genre:
Directed By:
Written By:
In Theaters:
On DVD:
Runtime:
Studio:
Empire Pictures
Audience Reviews for AKA
½
Another unnecessary plus pretentious screen splitting technique. Average in general, but the conjunctions could be better handled.
WS Wu
Dean, an attractive, 18-year old man living in working-class Thatcher-era Britain, longs to go to college and 'make something' of himself. Trapped in a household with an abusive step-father and a mother who is either unaware or in denial about the situation, events lead to him becoming looked after by a wealthy art-gallery owner - a Lady Gryffoyn no less - and eventually to him assuming the identity of her 18-year old son, Alexander Gryffoyn. He soon gains entrance to the circles of the privileged and becomes well liked when he moves to Paris, eventually becoming entangled in the attentions of a rich bachelor, David, and Benjamin, an American with secrets of his own.
Comparisons with The Talented Mr. Ripley are inevitable and favorable, although aka is much less of a conventional thriller and there's a greater emphasis on sexuality and much richer insight into the protagonist's motivations and psychology. An acquired taste thanks to an extremely low budget (which translates to a gaudy visual style and home-video quality footage), this nevertheless captures its late 70s setting perfectly and is aided by some fantastic performances. Matthew Leitch, Peter Youngblood Hills and Lindsey Coulson as Dean, Benjamin and Dean's mother respectively all give committed and truthful performances. Elsewhere some of the acting borders on caricature, and the music becomes overly invasive on more than one occasion. The section where a scene is split into three frames is also difficult to follow and is a technique that doesn't work (there's an alternate version of the film available on UK DVD which is apparently shown in this three frame format for the duration and is by all accounts unwatchable).
A complex, almost voyeuristic film, based on a true story, aka is definitely worth a watch.
Daniel Parsons
Super Reviewer
½
AKA is writer/director Duncan Roy's thought-provoking memoir of his own youth. He escaped from a brutal, sexually abusive working-class household by assuming the identity of a young aristocrat and became famous - or notorious - in the process. Matthew Leitch is perfect as Dean, the handsome, sweet, innocently seductive young man who desperately wants a better or, to be more precise, another life. His intelligence, looks, charm, and manner make people want to believe he is who he says. All the actors are notable and entertaining. Aside from the fascinating story, imaginative photography done solely with available light, and perfect musical support, AKA is a scathing portrayal of the English class system, where aristocrats rely on certain cues (accent, name, manners, schooling, demeanor) to identify one another and preserve their exclusivity. Dean lives as 'one of them' successfully and happily for over a year. After which he says, quite truthfully if Mr. Roy's portrait of Alexander Gryffoyn is in any way accurate, that he was a better Lord Gryffoyn than the real one could ever be. Mr. Roy depicts a working class equally complicit in maintaining 'place' and limited social mobility.
Danielle S
AKA Quotes
There are no approved quotes yet for this movie.
Discussion Forum
Discuss AKA on our Movie forum!