After Innocence
(2005)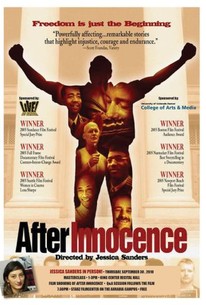 Movie Info
'After Innocence' is an account of how several men freed from prison after being cleared by DNA evidence struggle to reintegrate into society.
News & Interviews for After Innocence
Critic Reviews for After Innocence
Audience Reviews for After Innocence
"Freedom is just the Beginning" Alfred Hitchcock was once asked in an interview what his biggest fear was. He responded by saying that it was being falsely accused of a crime he didn't commit. After watching After Innocence, I can say be falsely accused and convicted of a crime would be one of the most terrifying things that could happen to a person. After a law class I took last year; I began to be totally opposed to the death penalty. Now, After Innocence just reaffirms my belief that the death penalty should not be used. There's just too much risk in executing an innocent man or woman. If you only execute one innocent man, I'd say the system failed. And you know that more then one innocent person has been put to death. It's a scary thought; being on death row or even just in prison for a crime that you didn't commit. After Innocence dives into some of the people who's lives were affected by being wrongly convicted of a crime. After serving many years in prison, each person who is shown on this documentary had their convictions overturned because of DNA evidence that proves they didn't commit the crime. It shows how their lives never get back to normal. Each person has their own unique prison aftermath. It's hard to get work, a girlfriend and they were never compensated for their time. They continue fighting for compensation and for others that were also wrongly convicted. It's just a really sad and terrifying documentary to watch. Seeing a person who had to waste 22 years of their life inside a prison and come out without compensation is tragic. This along with Witch Hunt, which touches on the same subject, will really change your frame of mind about the whole legal system. While this obviously isn't a fun movie to watch; it is an important one and also a very well-made documentary. More people need to watch After Innocence.
Melvin White
Super Reviewer
Life altering, one of the 10 most important films I've ever seen.
Richard Franzen
Super Reviewer
After Innocence Quotes
There are no approved quotes yet for this movie.