Are You Being Served?
(1977)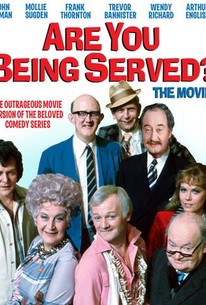 AUDIENCE SCORE
Critic Consensus: No consensus yet.
Movie Info
Are You Being Served? was a popular British TV sitcom all about the balmy employees of a department store clothing section. This 1977 feature-film version of Are You Being Served? finds screenwriters Jeremy Lloyd and David Croft not content with leaving the regulars in their natural cloak-and-suit habitat, so they send most of the cast on holiday to a fictional resort.
Critic Reviews for Are You Being Served?
Audience Reviews for Are You Being Served?
½
OK, it's creaky, incredibly dated, and the sets (or was there just one set?!) are wobbly, but that's all part of the charm. It's also quite perceptive of the attitude of the British abroad, that still persists to this day. My friends and I always seem to end up quoting from this film when we go abroad! The best scene has to be when the myopic Ernest Grainger, who's never been on a plane before, enters what he thinks is the lavatory (it's actually the cockpit). 'Oh, I'm sorry - will you be long?' he says to the pilot. 'About two hours' replies the pilot. 'Oh dear- I'll go to the other end' replies Mr Grainger. Absolutely priceless!
Cassandra Maples
Super Reviewer
Although the show is fun, I don't think they should have tried a movie. The jokes are predictable and only half of them are funny. It's okay, but the show is better.
I am giving this three stars just because it is Are You Being Served. I have a soft spot for this silly old show, I have to admit. Technically, it probably deserves two. It has a dreadful soundtrack, (really, they should be shot over it), half the jokes have already been used in actual episodes. (I physically cringed when I saw the cliched Arabs coming). However, I did still quite enjoy this and laughed, just because it is these well known and loved characters. Some of it takes place at Grace Brothers, most of it follows the team on holidays to Greece. The story is pathetic, but I can forgive a lot to see Mr Humphries mince around and Mrs Slocombe make comments about her pussy! I guess you can figure that anyone who seeks this one out probably liked the show and will enjoy it, and those who didn't like the show, can't imagine why they would bother with it to start with. Slight and inoffensive (in an Un PC way!).
Nicki Marie
Super Reviewer
Are You Being Served? Quotes
There are no approved quotes yet for this movie.