As I Lay Dying
(2013)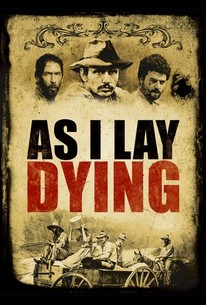 As I Lay Dying Videos
As I Lay Dying Photos
Movie Info
Directed by Oscar-nominated James Franco from a screenplay by James Franco and Matt Rager, As I Lay Dying is adapted from the 1930 classic American novel by William Faulkner. The story chronicles the Bundren family as they traverse the Mississippi countryside to bring the body of their deceased mother Addie to her hometown for burial. Addie's husband Anse and their children, Cash, Darl, Jewel, Dewey Dell, and the youngest one Vardaman, leave the farm on a carriage with her coffin - each affected by Addie's death in a profound and different way. Their road trip to Jefferson, some forty miles away, is disrupted by every antagonistic force of nature or man: flooded rivers, injury and accident, a raging barn fire, and not least of all -- each individual character's personal turmoil and inner commotion which at times threaten the fabric of the family more than any outside force.(c) Millenium
Rating:
R (for disturbing images, some sexual content and brief nudity)
Genre:
Directed By:
Written By:
In Theaters:
On DVD:
Runtime:
Studio:
Cast
News & Interviews for As I Lay Dying
Critic Reviews for As I Lay Dying
Audience Reviews for As I Lay Dying
Franco's adaptation of William Faulkner's complex novel only focused on delivering visualization that was done with an understanding, yet convoluting cinematography, while the cast tried their best to decently match the energy of the lines like any average adaptations of literature pieces at a similar level. Unlike Franco's previous attempt on a literature piece in "Howl", this doesn't justified its essential addition to the English Lit department. (B-) (Full review coming soon)
Kyle Mobray
Only see this film if you've read the novel. It was a brave undertaking to attempt to adapt it, but this was surprisingly solid as an adaptation.
Jameson Worley
½
As their mother dies, a family journeys across the county to bury her. Dear James Franco, Stop. Thanks, Jim While adapting William Faulkner's multi-voiced and complexly written novel is no easy task, James Franco's film fails on almost every level. It seems like everybody who had an idea got their idea into the film, and the result is a mishmash shitfest. The split-screen, direct address of the camera, the shots of Tim Blake Nelson drooling all combine to prove that James Franco should never direct a film again. Let's just take the split-screens: I've almost never seen split-screens work (the one exception that immediately comes to mind is (500) Days of Summer), but the reason they don't work is they take a responsibility that should belong to the director and transfer that responsibility to the audience. Rather than choosing what to show you, Franco puts the onus on you to decide what to watch. Likewise the direct address shots and reaction shots are indicative of a filmmaker who can't tell his story visually. On the positive side, when I read the novel, I imagined Tim Blake Nelson and Logan Marshall-Green in these roles. The casting is perfect, and while the script isn't good, these actors make it seem better than it is. Overall, I hope James Franco goes back to just looking good in movies.
Jim Hunter
Super Reviewer
Discussion Forum
Discuss As I Lay Dying on our Movie forum!
News & Features