Big Men
(2014)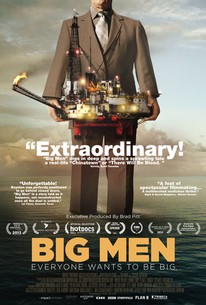 Movie Info
A good movie gives you a ticket to a secret world and Big Men delivers again and again, taking you into rooms you have no business entering. You'll eavesdrop on meetings about oil deals worth billions of dollars and watch heavily armed militants preparing to strike. It's a fast-paced tour through the high-powered world of African oil deals - a quest for money and power and influence that affects us all. (c) Official Site
News & Interviews for Big Men
Critic Reviews for Big Men
Audience Reviews for Big Men
5/7/15 Amazon Prime One more excellent documentary. High stakes, huge money, political corruption, lawless citizenry this covers it all. The opening credits has quotes about greed and they all come to life here.
Nick Ueber
½
A very level-headed look at the economics and politics of resource exploration and exploitation which become especially complicated in places like Ghana and Nigeria where things operate a bit differently than in wealthier countries with more firmly established political and legal institutions. Boynton's access to so many of the players offers us revealing insights into both differences and commonalities.
Michael Harbour
In the 1970 Doctor Who serial 'Inferno,' one parallel world on the brink of calamity due to a drilling incident gone terribly wrong serves as a warning for the other earth. Of course, reality does not work like that, even on a much smaller scale, like say that of countries. But in the case of Ghana and Nigeria, maybe for once it does, while it should be pointed out that of course all African countries are not the same. In 2007, Kosmos Energy took a huge risk and discovered oil off the shore of Ghana. As negotiations and elections follow, eyes turn toward Nigeria as an object lesson in what a country should not do with its share of the oil money, as Nigeria became rife with corruption, thus leaving many whose lives should have been improved by government development, instead forced to make a risky living on the oil black market to eke out a subsistence living.(The Norwegian suggestion concerning taxation is by the most fair for everybody involved.) That also causes some to turn to militancy in sabotaging the pipelines to get their point across. In the very incisive documentary and cinematic essay "Big Men," Rachel Boynton not only talks to those same insurgents to get a sense of what they want(and also some keen interpretation on what a documentary means), but also to those sitting in the boardrooms in New York, like James Musselman, the front man for Kosmos. And then she talks to everybody in between to get as many points of view as possible while also showing the high stakes involved for all parties, even those not directly affected.
Big Men Quotes
There are no approved quotes yet for this movie.
Discussion Forum
Discuss Big Men on our Movie forum!