Bloodlust
(1961)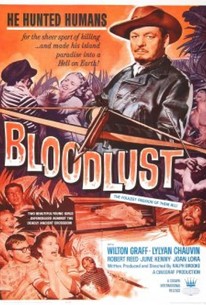 AUDIENCE SCORE
Critic Consensus: No consensus yet.
Movie Info
Richard Connell's story The Most Dangerous Game has offered a big, fat target for dull low-budget thrillers since the dawn of movie-making itself, and this is truly one of the dullest. The first (and apparently the last) directorial effort from Ralph Brooke was saved from cinematic obscurity only through its movie-trivia value, thanks to the presence of Brady Bunch dad Robert Reed as the thick, hunky non-hero in upsettingly-tight clothing. There is little variation on the timeworn theme of a wealthy madman (Wilton Graff) hunting shipwreck survivors for sport -- perhaps aside from this villain's tendency to store his human trophies in cleverly-designed, glass-walled dioramas which presaged the popular horror model kits of the 1960's.
Critic Reviews for Bloodlust
There are no critic reviews yet for Bloodlust. Keep checking Rotten Tomatoes for updates!
Audience Reviews for Bloodlust
Bafflingly silly in its adaptation of one of the great stories of all time, and absurd in its characterizations, but, at the end of the day, it's all charming and harmless. This is a movie that has something to say and do, and it accomplished both as it flounders admirably. I enjoyed myself with this admittedly ridiculous B-movie classic.
Brandon Schmidt
½
This movie is the story "The Most Dangerous Game", but with teenagers and as a silly early sixties movie. If that doesn't sound so bad check out this movie, you'll see what I mean, it's worse than that.
This was a pretty cool movie. 2 couples are on vacation on the open sea, when they come across a group of Islands. The skipper of the ship is a drunk, and is passed out when couples are ready to explore an island. The island looks deserted but its not it is inhabited by a Dr. Albert Balleau (Wilton Graff), who has a hobby of hunting humans. (This role should have been played by Vincent Price as our actor did all he could to imitate Vince Price.) After welcoming the couple for a night he lets them know they are now his prey. Filmed in 1959, and in Black and White I thought it to be a pretty good film, nothing to scare anyone, just a good film. One of the actors Johnny Randall played The father on Brady Bunch, this was long before that. This movie was in the Drive In Cult Classics Volume 2, 8 Movie Collection. I sat down and enjoyed this movie, been a long time since I gave out 4 stars to a Drive In Classic.
Bruce Bruce
Super Reviewer
Bloodlust Quotes
There are no approved quotes yet for this movie.
Discussion Forum
Discuss Bloodlust on our Movie forum!