Bram Stoker's Dracula
(1992)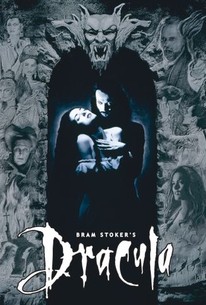 TOMATOMETER
AUDIENCE SCORE
Critic Consensus: Overblown in the best sense of the word, Francis Ford Coppola's vision of Bram Stoker's Dracula rescues the character from decades of campy interpretations -- and features some terrific performances to boot.
Bram Stoker's Dracula Photos
Movie Info
Based on Bram Stoker's classic 1897 novel, this film from Francis Ford Coppola and screenwriter James Victor Hart offers a full-blooded portrait of the immortal Transylvanian vampire. The major departure from Stoker is one of motivation as Count Dracula (Gary Oldman) is motivated more by romance than by bloodlust. He punctures the necks as a means of avenging the death of his wife in the 15th century, and when he comes to London, it is specifically to meet heroine Mina Harker (Winona Ryder), the living image of his late wife (Ryder plays a dual role, as do several of her costars). Anthony Hopkins is obsessed vampire hunter Van Helsing, while Keanu Reeves takes on the role of Jonathan Harker, and Tom Waits plays bug-eating Renfield. Bram Stoker's Dracula was the winner of three Academy Awards.
People Who Like this movie also like
News & Interviews for Bram Stoker's Dracula
Critic Reviews for Bram Stoker's Dracula
Audience Reviews for Bram Stoker's Dracula
½
For Carpathian art direction, set design and costuming (the vermilion leather ripples on Dracula's battle armor, etc.), 'Bram Stoker's Dracula' is an exquisitely iridescent triumph from the notorious precisionist Francis Ford Coppola. Narrative-wise, the visually sumptuous story recaptures the forlorn, doomed love story and writhing sensuality of the original text that most adaptations leave out but Winona Ryder never smolders with his costars. Gary Oldman is alternately romantic and horrifying (his demonic bat makeup is a ghastly embodiment that still sends shivers down your spine) in the title role. When he salivates over blood smatterings on Harker's razor and glides inhumanly on a dolly track, Oldman taps into the insatiable appetite of the bloodsucker. As a Keanu Reeves apologist, I can't defend his miscast turn as Jonathan Harker. He is simply too postmodern-surfer for the role and his line delivery could generously be called wooden. But for pitch-perfect casting, Tom Waitts is wondrously bug-eyed and loony as the stark-raving Renfield. To his credit, screenwriter James V. Hart alludes to Vlad's skirmish with the Turkish empire which amplifies the historical subtext. The London-bound scenes with Lucy, Mina and Arthur are pretty pedestrian as if they are excerpts from a particularly sedate Jane Austen novel about erogenous repression. Next to Max Shreck and Legosi, Oldman's rendition of Dracula might be the definitive version in this ostentatious take.
Cory Taylor
Super Reviewer
½
Dracula: Listen to them: the children of the night. What sweet music they make. "Lord Never Dies" After just recently reading Dracula for the first time, I thought I'd give Francis Ford Coppola's film another look. This is a pretty faithful adaption altogether, albeit with the sexual subtleties from the book thrown out. The subtleties aren't there when it comes to sex anymore. There's a lot of nudity, a lot of sex talk, and innuendo thrown in throughout this Dracula adaption. Same story as every other Dracula. Jonathon Harker is sent to Transylvania to meet with, and care for the purchases of Count Dracula. Once in his castle, Jonathon notices a lot of unusual things with the Count and his home. Soon Dracula leaves for London. Once there he begins corrupting the women as he begins his takeover of London, England, while also trying to get Harker's wife, Mina, to himself. The cast isn't perfect in this one and neither are the characters. Keanu Reeves feels so out of place in this movie. Van Helsing, like every other Van Helsing character, doesn't really feel like the character from the book. I like Anthony Hopkins and he's good here as well, it's just not the true Van Helsing. Winona Ryder is a decent, but unsatisfactory, Mina. Gary Oldman is the selling point and is great as Dracula. Altogether this is a really good Dracula adaption. It has its share of problems for sure, but the terrific cinematography, music, and atmosphere of Coppola's horror epic, more then make up for the small problems.
Melvin White
Super Reviewer
½
Coppola tries so hard to make something stylish above anything else that his film seems like a ludicrous comedy, with so many laughable camera movements, ridiculous overacting and cheesy effects in a mostly incoherent adaptation of what is supposed to be a terrifying story.
Carlos Magalhães
Super Reviewer
Bram Stoker's Dracula Quotes
| | |
| --- | --- |
| Count Vlad Dracul/Dracula: | There is much to be learned from beasts. |
| | |
| --- | --- |
| Count Vlad Dracul/Dracula: | The victories of my great race are but a tale to be told. |
| | |
| --- | --- |
| Count Vlad Dracul/Dracula: | What devil or witch was ever so great as Attila, whose blood flows in these veins? |
| | |
| --- | --- |
| Lord Arthur Holmwood: | An autotopsy. |
| Professor Abraham Van Helsing: | No, no, not really, I just want to cut off her head and take out her heart. |
Discussion Forum
Discuss Bram Stoker's Dracula on our Movie forum!