Clear History
(2013)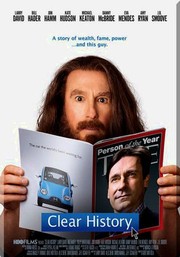 TOMATOMETER
AUDIENCE SCORE
Critic Consensus: Its semi-improvised structure finds Larry David squarely in his wheelhouse, but with few laughs and a muddled message, it doesn't live up to his usual standards.
Clear History Trailers & Photos
Movie Info
A marketing executive at an electric-car start-up quits after an argument with his boss, but is crushed when the company hits the big time, so he tries to reinvent his life under a different name in the peace and quiet of Martha's Vineyard. ~ Joe Friedrich, Rovi
more
Watch it now
Cast
News & Interviews for Clear History
Critic Reviews for Clear History
Audience Reviews for Clear History
½
After falling out with his business partner, Nathan (David) takes back his 10% stake in an electric car company. The "Howard", the model of car whose name led to the falling out between Nathan and Will (Hamm), goes on to become the biggest selling car in America. Having lost out on millions, Nathan becomes a figure of national ridicule and, after losing his wife and house, decides to change his identity and heads to Martha's Vineyard to begin a new life. Ten years later, Nathan is finally content, until Will arrives in town with his young wife (Hudson).
I came round to the charms of Larry David late, having never been convinced by the 'Seinfeld' phenomenon. His mediocre 1998 comedy 'Sour Grapes' certainly didn't win me over either. Then, in 2000, came 'Curb Your Enthusiasm'. I ignored the show in its first season, turned off by the harsh video aesthetic (ah, the old days when TV shows didn't resemble wedding videos). When I eventually managed to convince myself to sit through a full episode, I was instantly hooked and 'Curb' quickly became my favorite show of the 21st century. Since the end of the show's eight season back in 2011, David fans have been waiting impatiently for more material. So arrives 'Clear History'.

Along with David, the script was written by Alec Berg, David Mandel and Jeff Schaffer. The latter trio are responsible for such comedy misfires as 'The Dictator', 'Bruno' and 'Eurotrip', but, in its comic tone, this is very much a David production. Essentially, David has taken the premise of 'Sour Grapes' and tweaked it slightly so it resembles a feature length episode of 'Curb', albeit a somewhat weaker one. The character of Nathan is really just David's 'Curb' persona, while JB Smoove may as well be playing Leon, his much loved comic creation from the show.
One of the strengths of 'Curb' is that it's a sit-com that places as much importance on the situation as the comedy. Structurally, it's in a class of its own, weaving enough sub-plots into a single episode to fill an entire season of a lesser show. A plot point will be introduced early on, only for you to forget it until BAM!, David springs it back on you for a final twist at the episode's conclusion. He employs this technique for 'Clear History', although the extended running time means sub-plots are referred back to a little more than they need to be (a running joke involving the rock group 'Chicago' runs its course halfway through the film but keeps cropping up, right until the film's climax).

While structurally, the film can't compare to 'Curb', and doesn't have its great cast of supporting characters, it possesses enough laugh-out-loud moments to satisfy fans of David. It's great to have him back on our screens but what annoys me, and I suspect all 'Curb' fans, is that an entire season of the show could probably have been put out in the same amount of time David spent making a feature length TV movie. Still, I'll take what David I can get and, while 'Clear History' isn't great David, it is pretty good David.
Pretty, pretty, pretty good.
The Movie Waffler
Super Reviewer
This comedy was written by Larry David, Alec Berg, David Mandel and Jeff Schaffer, and directed by Greg Mottola. If you are fan of Larry David's comedy style you will enjoy the story of Nathan Flomm, who, in order to avoid the humiliation of having missed out on a hugely successful business, assumes a new identity on Martha's Vineyard. Of course, when an opportunity shows up, he plots revenge - his former business partner moves to the same town, and he starts moving and shanking... I am not sure that people who are not fans will enjoy this as much, though. Don't get me wrong, starring Larry David, Bill Hader, Philip Baker Hall, Jon Hamm, Kate Hudson, Michael Keaton, Danny McBride, Eva Mendes, Amy Ryan and J. B. Smoove, you cannot go wrong - but even they could not make the B grade screenplay working all the time. Michael Keaton, Danny McBride and Eva Mendes were outstanding and I really wished that the screenplay was up to their standard.

It was funny, but only occasionally, and there was nothing I could mark as memorable! With its seaside setting and very light entertainment it is perfect for a relaxed evening, because it is still pleasant, late-summer themed mix, enjoyed to the sounds of Chicago... of, I almost forgot, and I really loved the debate about whether there is a racial preference between black and white dwarves. I wish that there was less restrain, but this was made for HBO, and obviously it was impossible to let Larry David loose (with a reason)!
Discussion Forum
Discuss Clear History on our Movie forum!
News & Features