Cougar Club
(2007)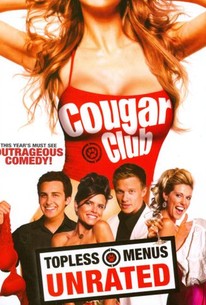 AUDIENCE SCORE
Critic Consensus: No consensus yet.
Movie Info
Two recent college graduates hatch an ingenuous scheme to increase their income while having a bit of naughty fun on the side in this sexy comedy that proves just how wild lonely housewives can be when left unattended. For Spence and Hogan, the carefree days of college come crashing to an end when they are forced to go to work for a group of heartless divorce lawyers who seem to take great joy in tormenting the dejected young slackers. Subsequently presented the opportunity to start a club in which older women can discreetly experience the joys of being with a younger man, these two put-upon legal workers set about rounding up a group of their most libidinous young men to launch a successful start-up business that thrives on pleasure. Faye Dunaway, Carrie Fisher, Izabella Scorupco, and Joanie Lauer star in a scorching age-disparity comedy from cinematographer and special effects artist-turned-director Christopher Duddy.
Critic Reviews for Cougar Club
Audience Reviews for Cougar Club
Terrible writing, acting, and attempts at comedy.
Byron Brubaker
Super Reviewer
Cougar Club is astupi9d, low brow and poorly constructed comedy that just doesn't deliver anything good or entertaining. I absolutely hated the film, and I thought that despite the interesting idea for the plot, the poorly written script was what made this film a total misfire., Add to that two lead actors that are just horrible and you have a film that just misses the mark on so many levels. I just thought that the film wasn't funny and it didn't have any substance to its shallow script. I felt that the film was rushed and the emphasis on comedy wasn't really a strong point here, as most of the jokes were pretty bad and laugh free. The actors here are wooden, and don't give the film wit. Same goes for director Christopher Duddy, he lacks the skills of creating anything funny out of the film, and he doesn't know what makes a good comedy. This is one of the worst comedies that I've seen in quite some time, and it's one film that is not worth watching. This is filmmaking at its lowest form. The only good thing about this film is the good looking cougars, other than that, there's nothing else to enjoy. This film just isn't worth watching and is more stupid than actually funny. The comedy aspects of the film are minimal, and you won't find yourself laughing much watching this film. Watch a different film instead. This one just fails.
Oddly enough, It had some nice looking oder woman, but it was really unfunny throughout most of the movie.
Joseph Eastmond
Super Reviewer
Cougar Club Quotes
There are no approved quotes yet for this movie.