Daenseo-ui sunjeong (Innocent Steps)
(2005)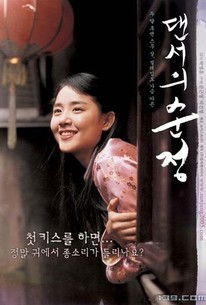 AUDIENCE SCORE
Critic Consensus: No consensus yet.
Movie Info
A huge box office hit in Korea, starring Korea's sweetheart Geun-Young Moon, who actually does most of the ballroom dance sequences herself. A gritty yet heartfelt, feel-good journey that features great dancing and redemption for both leads.
Rating:
NR
Genre:
, ,
Directed By:
In Theaters:
Runtime:
Studio:
Asian Crush
Watch it now
Cast
Critic Reviews for Daenseo-ui sunjeong (Innocent Steps)
All Critics (0) | Fresh (0) | Rotten (0)

Audience Reviews for Daenseo-ui sunjeong (Innocent Steps)
½
"Innocent Steps" is a very cute romantic Korean drama that mixes good dancing with a solid love story. Knowing the usual sad ending formula to Korean dramas, I initially expected the ending to disappoint. But this one defied my expectation.
Thomas Andrikus
Along with romantic comedies, which this film TRIES to be, and the evil child sub-genre, this dance movie genre has got to be my least favorite movie genre to watch. But it's not like it would've been any better if instead of dancers, they were sailors. This movie is pretty bad, probably on the lower end of the spectrum as far as South Korean movies go. First of all it's really all that funny nor is it really all that romantic. This movie follows the predictable formula of guy falls for girl, something happens in the middle that causes them to part and at the end, love conquers all and all that shit you've countless times before. The problem is that they never really feel like they're in love with each other at any point in the movie. The last 25 minutes is the characters looking sad while sad music plays in the background. Really trying to manipulate you in lieu of actual storytelling. Not to mention the dialogue in these last 25 minutes being cheesy as all hell. I wasn't satisfied that these guys finally got together, because it just wasn't good and it was manipulative which can work in some cases. But not when you're trying to make me feel something different than I what I had been watching all along as if I was an idiot that hadn't remembered most of the movie and its leads nonexistent romance. I mean take all that and all you have left is the dancing, which, really, doesn't add anything to the movie at all even if it's nicely choreographed. Watching professionals dance well isn't my idea of a very fun movie. So really this movie fails at everything it sets out to do, I wouldn't ever watch it unless anyone dared you too and you felt your stubborn pride forces you to do it. Shitty movie.
Jesse Ortega
Super Reviewer
Alright. If you're slightly familiar with the flow of how Korean dramas work, you know everything about this movie. Everything. Yeah. Ridiculously predictable. It's not a spoiler to tell you guys that the girl and the guy start falling in love. It's not a spoiler to tell you guys that somehow they're gonna be separated and by some strange decision, one is gonna push the other away. And man, the climax of this movie's like a black hole; it's trying so hard to suck every single tiny little ounce of emotion out of the audience. I mean just look at it: Passionate crying out with tears flowing down their faces, a "vibrant" and emotional score that bangs out the instant they hug after all their trials, and the dialogue that's trying so hard to tug at our hearts and make us dream about what the loveliest thing our future wives/husbands would say at a time like this. Aww how sweet... I hope you guys understand that I'm being sarcastic. The ONLY thing that works with this movie is how we begin to care about the girl and how effectively real her love is for this man. Thus, when a separation occurs between her and the dude, the viewers desperately wanna see them back together. That's all this movie is about -- it's about the build-up of the relationship then when it seems to be right at the peak, there's dissension and for some reason, they can't seem to get back together... Mind you, this is EVERY SINGLE KOREAN DRAMA PLOTLINE/NARRATIVE/STORYLINE, but it doesn't mean that it doesn't work. It toys with your emotions. But what "Innocent Steps" does is take the typical toying-with-your-heart-Korean-drama scenario and exaggerates everything up to the 100X SSJ5 8TH DEGREE level. Everything's exaggerated. "Innocent Steps" as a whole, is crafted so that every single scene that involves emotions must be brimming and overflowing like a super-lava-hot kettle with emotional rawness to the point where they expect their viewers to cry like babies. As you can expect, the target audience is for 5-14 year old girls. Annoying. Hey, the drama works, but it doesn't mean that this is one hell of a cheesy movie. The cheese factor ramps up so high that I began to cringe at the amount of effort poured out into these emotional scenes.
Albert Kim
Super Reviewer
Discussion Forum
Discuss Daenseo-ui sunjeong (Innocent Steps) on our Movie forum!
News & Features